Chen's mother makes plea
Former president Chen Shui-bian's (陳水扁) mother made a plea for her son's release yesterday, one day before the Taiwan High Court is expected to decide whether to continue his detention.
Attending a funeral for the former president's uncle in Tainan, Chen Lee Shen (陳李慎) said: "My son did nothing wrong. Why has he been detained so long?"
"As a mother, I feel deeply sad. I cannot eat during the day and cannot sleep at night," she said.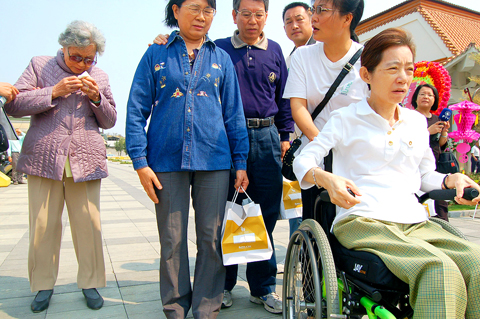 Former first lady Wu Shu-jen, front, and former president Chen Shui-bian's mother, Chen Lee Shen, left, attend the funeral of Chen Shui-bian's uncle yesterday.
PHOTO: CNA
Chen Shui-bian has been detained for more than 500 days and his current term of detention is scheduled to end on April 23.
Teng Chen-chiu (鄧振球), the presiding judge in the case, said during Friday's hearing that the court intended to make a decision today.
Teng had said the Chen family would have to remit NT$700 million (US$21 million) to a designated account if the former president were to have any chance of being released on bail.
Chen's son, Chen Chih-chung (陳致中), said of the judge's remark that he and his family had done everything they could to have the money from his family's Swiss bank accounts remitted to Taiwan and that it was up to the Special Investigation Panel (SIP) to decide when the transfer would take place.
The Taiwan High Court has announced it will deliver a verdict for the second trial on June 11.
The Taipei District Court sentenced Chen Shui-bian and his wife Wu Shu-jen (吳淑珍) to life in prison in September after handing down a guilty verdict in the first trial against the former first couple and 11 others.
Comments will be moderated. Keep comments relevant to the article. Remarks containing abusive and obscene language, personal attacks of any kind or promotion will be removed and the user banned. Final decision will be at the discretion of the Taipei Times.