Butchering of live animals inhumane, risky: activists
Government leniency on the butchering of live animals in traditional markets is inhumane and could facilitate the transmission of bacteria, animal rights activists said yesterday during a protest in front of the Executive Yuan, an allegation the Council of Agricultural (COA) later rebutted.
Dressed in chicken suits, protesters from Environment and Animal Society of Taiwan (EAST) called on the government to ­deliver on its promise to outlaw the killing of live animals in traditional markets starting next month.
Since August 2006, the council has promised NT$500 million (US$15.7 million) to subsidize more than 760 traditional meat stands across the country to purchase refrigerated display cases to phase out live slaughter, EAST director Chen Yu-min (陳玉敏) said.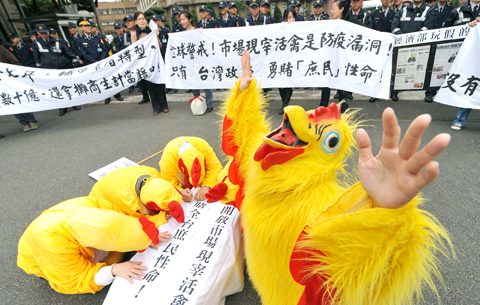 Animal rights activists from several groups, including Environment and Animal Society of Taiwan, protest in front of the Executive Yuan yesterday, claiming the government made a policy U-turn on banning the slaughter of fowl in traditional markets.
PHOTO: LIU HSIN-DE, TAIPEI TIMES
However, government inaction has disappointed many vendors who ended up using their freezers as storage space, she said.
Blood and innards left in the open following the live slaughter of poultry, Chen said, has turned traditional markets into hotbeds for bacteria such as salmonella, adding that there have been reports in Vietnam and Indonesia of women and children falling ill after prolonged exposure to the conditions in traditional markets.
The activists said bacteria levels in freshly killed chickens in traditional markets are twice as high as chickens that were electrically immobilized in legally approved slaughtering plants.
EAST urged consumers to abandon their traditional way of thinking that "live killing guarantees freshness" and realize that such methods are extremely inhumane and distressing to the animals.
The council denied it had performed a U-turn on its policy, saying most traditional market poultry vendors had agreed to use refrigeration. It also said it was providing education on how to slaughter the animals in a humane and sanitary manner.
Comments will be moderated. Keep comments relevant to the article. Remarks containing abusive and obscene language, personal attacks of any kind or promotion will be removed and the user banned. Final decision will be at the discretion of the Taipei Times.