Food guru finds fame in London
CUISINE Taiwan-born Ching-He Huang has won food lovers over with her creative and tasteful style of preparing traditional Chinese, Taiwanese dishes
Ching-He Huang, a Taiwan-born food entrepreneur in Britain, received a warm welcome and high praise when she spoke on Chinese culinary art and gave a live demonstration at an Asian food fair in London on Thursday.
The young, self-taught cook was the first culinary guru to be invited to speak at the Asian Food Festival organized by Asia House, a group aimed at promoting business, cultural and diplomatic interaction between Asia and Britain.
Sumi Ghose, Asia House's director of public programs, said Huang was invited to be the keynote speaker at the festival's first event mainly because she has emerged as the leading spokeswoman in Britain for modern Chinese cuisine.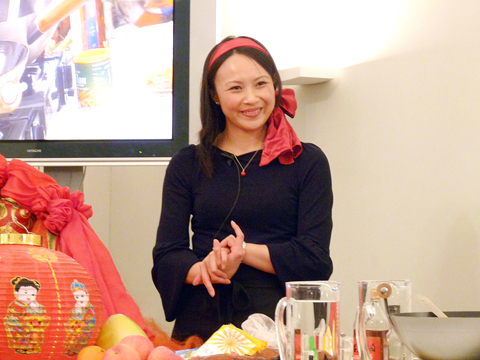 Ching-He Huang gives a live demonstration at an Asian food fair in London on Thursday.
PHOTO: CNA
Ghose, a Chinese food aficionado, said Huang's popularity lay in her ability to infuse new life and taste into Chinese dishes by extensively exploring traditional Taiwanese and Chinese food ingredients and cooking them in creative and tasteful styles.
Ghose added that it was very meaningful to invite her to speak and prepare Chinese dishes ahead of the Lunar New Year today.
Huang said she was honored to be invited to give a demonstration at the Asian Food Festival's first presentation program.
Huang introduced the origin and history of Lunar New Year celebrations in China and Taiwan and prepared two New Year's dishes — deep-fried glutinous rice cakes and salty rice dumpling soup.
She told a packed house that the rice cake symbolizes good fortune and that the salty rice dumpling represents families reuniting for the holiday.
Among those in attendance was Representative to the UK Katharine Chang (張小月).
"Through her introduction, many British citizens have become more interested in Chinese cuisine. Huang is truly a Chinese food ambassador (中華美食大使)," Chang said.
The 32-year-old Huang moved to South Africa with her parents at the age of five and relocated to London six years later.
She opened a food company — Fuge Foods — after graduating from the University of London, selling health drinks and adapted Chinese dishes that have made inroads into upscale department stores, such as Harrods and Selfridges.
It almost seemed inevitable that she would end up on television, and in 2005, her Ching's Kitchen made its debut on UKTV Food (now known as Good Food Channel). Since then, Huang has made TV appearances on ITV's Saturday Cooks and Daily Cooks, UKTV's Market Kitchen and Channel Five's Cooking the Books. She is the author of Chinese Food Made Easy and Ching's Chinese Food in Minutes.
ADDITIONAL REPORTING BY STAFF REPORTER
Comments will be moderated. Keep comments relevant to the article. Remarks containing abusive and obscene language, personal attacks of any kind or promotion will be removed and the user banned. Final decision will be at the discretion of the Taipei Times.