Giant bat species reemerges after 30 years on edge
A species of giant bat of which only a few isolated members had been seen in Taiwan in the past 30 years is not as close to disappearing in Taiwan as conservationists had feared, the Council of Agriculture (COA) said yesterday.
A group of the creatures, which have a wing span of up to 1m, has been found on remote Turtle Mountain Island (龜山島) in Yilan County.
The bats, with the scientific name Pteropus dasymallus formosus, are some of the largest in the world and are commonly referred to as Formosan flying foxes.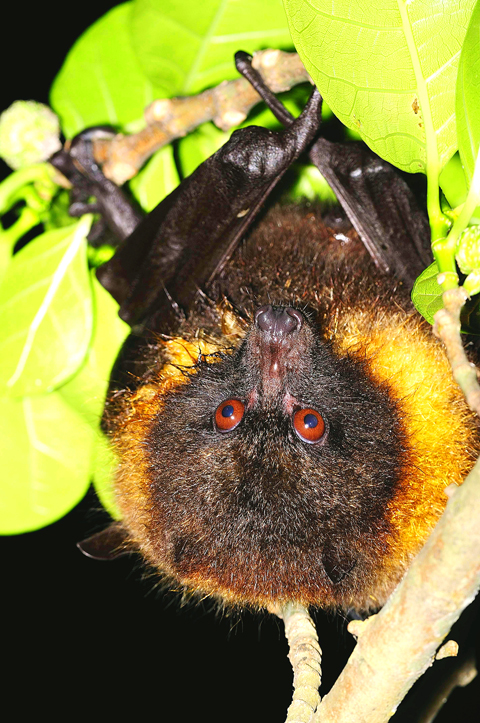 A Formosan flying fox (Pteropus dasymallus formosus) hangs from a tree branch in this undated photo. A small colony of the animals survives in the wild on Turtle Mountain Island off the coast of Yilan County.
PHOTO COURTESY OF THE FORESTRY BUREAU
Until recently, some conservation experts had believed that the flying foxes had died out in Taiwan, as no specimens had been seen in the wild for a period of almost 30 years stretching from 1976.
A breakthrough came in 2005, when a team led by the council's Forestry Bureau in conjunction with researchers from Taipei Zoo found three isolated specimens on Green Island (綠島).
The discovery prompted a renewed search for the giant flying mammals.
COA Conservation Division director Kuan Li-hao (管立豪) said a research team found a small group of flying foxes on Turtle Mountain Island in 2006.
Last year, after repeated surveillance and monitoring efforts, the group was revealed to be more than 20 strong.
The group has been placed ­under monitoring and plans to create a full-time monitoring station on the island are being discussed, he said.
Kuan said the council was also looking at working with Northeast and Yilan Coast National Scenic Area authorities to establish a conservation zone for the bats.
Unlike other bat species, Formosan flying foxes do not possess echolocation abilities.
Instead, their sense of smell and eyesight are more fully developed, said Lin Liang-kong (林良恭), a professor at Tunghai University's Department of Life Science.
They feed on nectar, blossoms, pollen and fruit, Lin said.
While the species is not recognized as endangered worldwide, they are under threat in some places because of human encroachment on their natural habitat and excessive culling.
The same factors are behind the disappearance of Formosan flying foxes in Taiwan over the last 30 years, COA officials said.
Large numbers of the mammals were caught to be eaten as a delicacy and many were raised as pets during the 1970s, causing the number of Formosan flying foxes to drop sharply, a Forestry Bureau specialist said.
The word "bat" in Chinese has a character that rhymes with the Chinese word for happiness, and bats are considered lucky charms in traditional culture.
ADDITIONAL REPORTING BY CNA
Comments will be moderated. Keep comments relevant to the article. Remarks containing abusive and obscene language, personal attacks of any kind or promotion will be removed and the user banned. Final decision will be at the discretion of the Taipei Times.