Ma tells new Investigation Bureau agents not to smoke
President Ma Ying-jeou's (馬英九) sense of humor was on show again yesterday when he joked that investigators should not smoke when they interrogate suspects to elicit confessions from them.
"How did the investigating agent torture you? Did he beat you? The suspect said no, adding that it was the agents chain-smoking that made him nearly choke to death," Ma said, recalling a conversation he had with a suspect when he was minister of justice.
"If [investigators] are smokers, remember that [you] should smoke outside and not inside during the interrogation process," Ma told the 46th graduating class of agents at the Ministry of Justice's Investigation Bureau in Sindian (新店).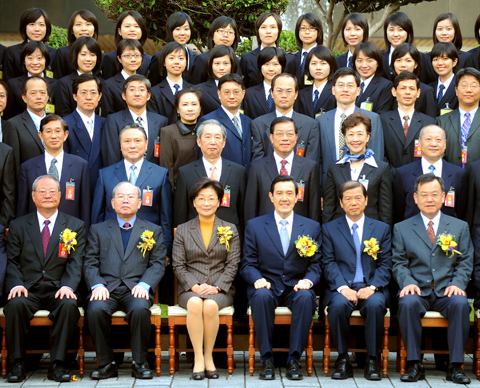 President Ma Ying-jeou, third right in the front row, Minister of Justice Wang Ching-feng, front row third left, and other officials have their picture taken with investigators who have completed their training at the Investigation Bureau.
PHOTO: WANG MIN-WEI, TAIPEI TIMES
The average age of the graduates was about 27 years old. There were 41 men and 35 women.
Ma said that the bureau's top priority was obtaining information concerning national security. However, he also urged agents to probe irregularities and corruption involving government officials to help establish clean government.
He told law enforcement personnel to exercise their powers cautiously because "infringements of human rights are mainly caused by the government and the overexertion of public power."
Ma said there were fewer illegal wiretapping cases since he took office, adding: "It's not that I was asking you to forget such measures, but that they should only be conducted when necessary and legal … Only when these principles are abided by can we say that we are a democratic country ruled by law."
Comments will be moderated. Keep comments relevant to the article. Remarks containing abusive and obscene language, personal attacks of any kind or promotion will be removed and the user banned. Final decision will be at the discretion of the Taipei Times.