Gay pride throngs Taipei streets
COMING OUT From 500 revelers six years ago, the Taipei LGBT Pride Parade drew an estimated 25,000 participants this year, the largest such parade in Asia
Rainbow flags covered downtown Taipei yesterday afternoon as thousands of participants in this year's Taiwan Lesbian, Gay, Bisexual and Transgender (LGBT) Pride Parade took to the streets, calling on the government to better protect gay rights.
During the parade, songs from romantic and pop genres clashed with heavy metal and trance music. Slogans were shouted by dozens of different organizations. Spectators shouted encouragement. Others just stood, endlessly clicking away on their cameras.
Now in its seventh year, the Taiwan LGBT Pride has grown from a humble gathering of 500 participants in 2003 to become the largest annual LGBT parade in Asia. Organizers estimated that there were more than 25,000 participants this year, 5,000 more than they had originally expected.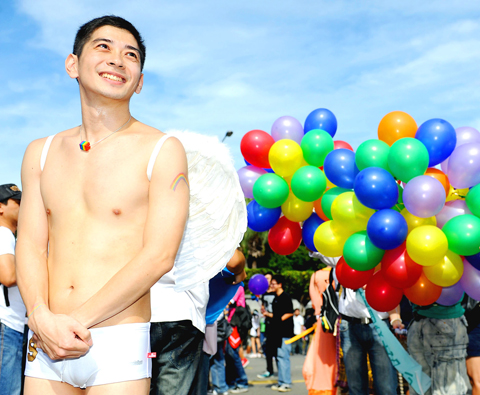 A lightly dressed participant in Taipei's LGBT Pride Parade poses for a photo on Ketagalan Boulevard yesterday.
PHOTO: WANG MIN-WEI, TAIPEI TIMES
As the revelers snaked their way through the busy streets of Taipei, passing by 228 Peace Park (228和平公園), Ximending (西門町) and Zhongxiao W Road, spectators gathered to watch the parade.
"We support this [event] 120 percent," spectator Simon Chan said. "I think this event will let the public understand more about gay culture."
The slogan this year was "Love Out Loud" (同志愛很大) as parade organizers hoped to encourage members of the public to love and not discriminate against their lesbian, gay, transgender, transsexual or transvestite relatives, colleagues and neighbors. They also called on the government to do more to protect their rights and lifestyle choice. They went on to say that both of the nation's main parties have neglected their demands.
"We want to emphasize that we love this society and its people," said Ann Tung (童楚楚), convener-in-chief of this year's parade. "We want to exchange our love for the public's recognition."
This was a frank reference to an anti-gay march held last Saturday by several Christian groups. The groups were led by two former Presbyterian Church pastors who emphasized the traditional definition of marriage.
That however, failed to deter the participants, who gathered in 30°C temperatures yesterday. Parade organizers later said that more than 100 organizations showed up to voice their support, including students from National Taiwan University as well as doctors and teachers' organizations.
Groups from the US, Europe and Japan also joined the parade.
"I think [Taiwan's] gay scene is amazing," said a spectator named Maria, who was visiting from the US. "It's not that different to the one we have in Chicago."
"Taiwan is very outgoing. Even in Japan it is more conservative," said Naiyuki Fukai, who is an organizer for next year's Tokyo Pride event.
The event ended at 7pm following performances by Tony Fish (大炳) and Fish Leong (梁靜茹), who was the parade's "rainbow ambassador" this year.
Tung later expressed hope that this annual event could spread to Kaohsiung and Taichung next year.
Comments will be moderated. Keep comments relevant to the article. Remarks containing abusive and obscene language, personal attacks of any kind or promotion will be removed and the user banned. Final decision will be at the discretion of the Taipei Times.