Animal lovers brave foul weather for 'dog-a-thon'
LIKE-MINDED Members of Animals Taiwan and other pet lovers used World Animal Day to remind people that humane methods to deal with stray animals
Braving the pre-typhoon weather, dozens of dogs participated in yesterday's dog-a-thon, the first parade for pets ever held in Taipei.
The event, organized by Animals Taiwan, was held at Civic Plaza in front of Taipei City Hall on World Animal Day yesterday. Hundreds of animal lovers and dozens of dogs, from Labradors to golden retrievers, were at the event.
Despite poor weather as Typhoon Parma approaches Taiwan, the rain did not put out the passion of animal lovers who attended.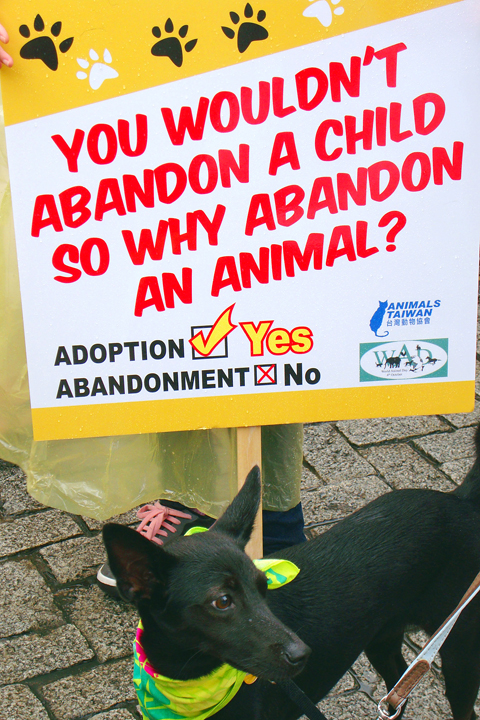 A dog stands in front of a sign in Taipei at Taiwan's first pet parade on World Animal Day yesterday.
PHOTO: CNA
A 40-year-old woman surnamed Chiang was in attendance, along with her husband and their black-haired poodle. Both wore the same light-blue T-shirts, while the poodle wore a doggie raincoat.
"I came because I want my dog to meet and socialize with other dogs," she said.
Dozens of stalls, from food and beverage sponsors to veterinarians and other pet-related services, were set up.
World Animal Day originated at an ecological convention in Florence, Italy, in 1931. Though it started as a means to shed light on the plight of endangered species, since then it has become a celebration of all animal species around the world. It is held every year on Oct. 4 in honor of the Feast Day of St Francis of Assisi, the patron saint of animals.
Among notable attendees were Democratic Progressive Party Taipei City Councilor Wu Su-yao (吳思瑤), Discovery Channel's Fun Taiwan show host Janet Hsieh (謝怡芬) and celebrity Ivy Hsu (許嘉凌).
"We hope to create an environment where animals can be free of suffering and promote the use of humane methods to resolve the problem of stray animals," Animals Taiwan secretary-general Rosa Huang (黃蘊茹) said. "This time, we want to use the opportunity of World Animal Day to tell the people of Taiwan and the world that adoption saves, abandonment kills."
Comprising mainly volunteers, Animals Taiwan was established five years ago to deal with pet overpopulation through education, adoption and outreach programs. The organization became a government-registered non-profit group last year.
Comments will be moderated. Keep comments relevant to the article. Remarks containing abusive and obscene language, personal attacks of any kind or promotion will be removed and the user banned. Final decision will be at the discretion of the Taipei Times.