Peng Ming-min launches new book, castigates Ma
'THINK CAREFULLY' The veteran activist lamented what appeared to be a gradual regression of civil liberties since Ma Ying-jeou came into office last year
On Sept. 20, 1964, Peng Ming-min (彭明敏) was arrested for treason for advocating democracy in Taiwan. He was sentenced to eight years in prison in 1965 and put under house arrest later the same year after receiving a special pardon.
On Jan. 2, 1970, Peng left his family and began a 22-year exile.
At a book launch in Taipei yesterday, the 86-year-old shared his successful escape from the then-­Chinese Nationalist Party (KMT) regime 39 years ago, which he describes in his book titled A Perfect Escape.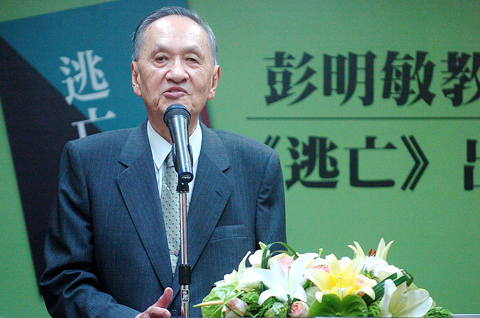 Former presidential advisor Peng Ming-min speaks at an event launching his book about how he escaped Taiwan almost 40 years ago.
PHOTO: GEORGE TSORNG, TAIPEI TIMES
"I often ask myself: If I had made a different decision, what would have become of me?" Peng, former senior presidential adviser under the Democratic Progressive Party administration, told an audience yesterday.
After Japan's defeat in World War II, Peng, who at the time was studying political science at the University of Tokyo, had to decide whether to stay in Japan or return to Taiwan.
If he had stayed in Japan, he would have had to change his Chinese name and would probably have ended up teaching, practicing law, writing or working in the public sector, Peng said.
"But I loved this country [Taiwan] so much that I wanted to go home … It did not take me long to decide," he said.
Filled with patriotism and ideals, Peng was in for a major disappointment after he saw how the KMT was governing Taiwan.
Peng returned to Taiwan in 1946 and studied political science at National Taiwan University. In 1951, he obtained a scholarship to study at McGill University in Montreal. He was offered a job there, but turned it down. He studied law at the University of Paris and obtained a doctor of laws degree in 1954.
Peng said the KMT government tried to recruit him after his return from Paris. But after witnessing the 228 Incident, the imposition of Martial Law and the White Terror, he had to decide between serving under the KMT and securing wealth and status, or following his conscience and fighting for freedom and democracy.
In 1964, Peng was arrested along with two of his students, Hsieh Tsung-min (謝聰敏) and Wei Ting-chao (魏廷朝), for publishing the Declaration of Formosan Self-Salvation.
For his own safety and that of his family, Peng said he decided to flee the country. With help from various individuals — Peng said he had to be careful with details in the book to protect the privacy of individuals and respect the wish of those who helped him but wanted to remain anonymous — his escape took him through Hong Kong, Bangkok, the Soviet Union and Denmark before he arrived in Stockholm, where he was granted political asylum.
Peng later moved to the US with held from his friends and joined the campaign for Taiwan independence.
Peng yesterday lamented the dramatic change in Taiwan's political climate since President Ma Ying-jeou (馬英九) was elected last year, saying the country seemed to be gradually returning to the old days when the KMT was in power.
"Can we accept that the eight years of freedom and democracy we enjoyed were just a short episode? Is it normal to have a foreign regime govern this land? We must carefully think about that," he said.
Comments will be moderated. Keep comments relevant to the article. Remarks containing abusive and obscene language, personal attacks of any kind or promotion will be removed and the user banned. Final decision will be at the discretion of the Taipei Times.