Consumer watchdog laments 'sad' year for shoppers
The Consumers' Foundation yesterday named the six most important news stories of the year in merchandising, with unsafe food products, such as melamine-tainted milk products from China, topping the list.
The melamine scandal was sparked in September when contaminated milk powder produced by China's Sanlu Group entered the Taiwanese market and was distributed to various parts of the country.
Melamine, an industrial chemical used in plastics, had been added to milk products to give a false reading on protein content. Excessive consumption of melamine can cause kidney stones or kidney failure.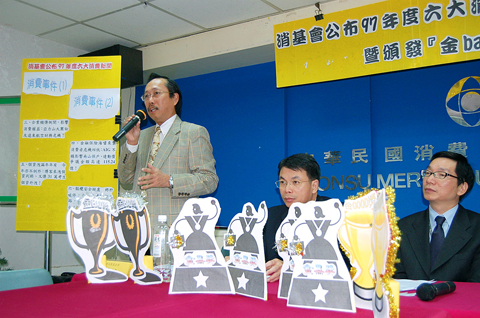 The Consumers' Foundation yesterday holds a press conference naming the six most important news of the year in the merchandising sector.
PHOTO: LIU LI-JEN, TAIPEI TIMES
To address public concern, the Department of Health resorted to offering free kidney check-ups at hospitals across the country.
The foundation criticized the department, however, for its poor handling of the situation by giving it the "Very Bad Award."
The department's actions led to a loss of confidence in the safety of food products and must be condemned, foundation deputy secretary-general Gaston Wu (吳家誠) told a press conference in Taipei yesterday.
In the private sector, RT Mart, Fonterra and Nestle Taiwan all received the "Very Black Award" — "black" standing for black-hearted products — by the foundation for poor business practices during the melamine scandal.
A foundation's list showed that unsafe food products included melamine-tainted milk products, rice wine laced with industrial chemicals and animal feed tainted with ractopamine.
"If consumers lack the necessary information about food products, they are vulnerable to being exposed to food products that could harm them," Wu said.
He urged consumers to actively seek information about the products they buy to be on the safe side.
"Overall, this was a sad, depressing and helpless year for consumers," he said.
Comments will be moderated. Keep comments relevant to the article. Remarks containing abusive and obscene language, personal attacks of any kind or promotion will be removed and the user banned. Final decision will be at the discretion of the Taipei Times.