Zoo opens hall without pandas
ANIMAL INVASION The Kaohsiung City Scenic Area said it was preparing to accept a gift of two rare white tigers from a safari park in Guangzhou, China
More than 1,000 students and visitors crowded the Taipei Zoo's panda hall yesterday morning as zoo officials opened it for an hour to test capacity and animal viewing arrangements.
Zoo officials expect the two giant pandas to attract more than 6 million visitors in the first year, saying they will issue numbered slips to visitors at the panda hall to prevent them from waiting in long lines.
The zoo has installed slip machines at each of its eight entrances, and will limit visitors to just 10 minutes in the hall.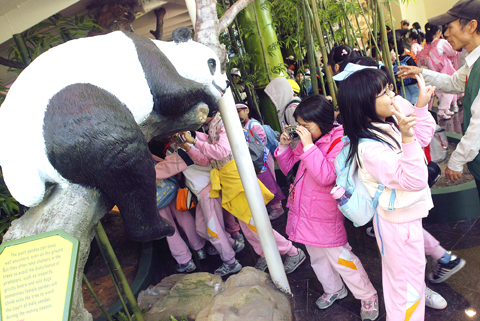 Children pass by a panda model and take pictures during a route test of the new panda house in Taipei Zoo yesterday. The pandas will arrive in Taipei on Tuesday.
PHOTO: AP
"It was so crowded in the hall, and 10 minutes was not enough. I think things will get messier when the pandas arrive," a visitor surnamed Chen said as she left the hall.
The Taipei City Government this week said that the two pandas would arrive in Taiwan on Tuesday and police would escort them from the airport to the zoo for a one-month quarantine period.
Taipei Zoo director Jason Yeh (葉傑生) said yesterday that the hall would be open from 9am to 5pm each day, and visitors who wish to see the pandas would be required to take a slip with a designated visiting time at the entrance. The hall can hold about 500 people, Yeh said.
The zoo will station 30 staff members to maintain order in the hall, and will install six 42-inch TV screens outside to provide live coverage of the pandas' movements, he said.
The public is expected to be able to get its first glimpse of the pandas as early as Jan. 23, Lunar New Year's eve.
Meanwhile, Democratic Progressive Party Taipei City Councilor Yen Sheng-kuan (顏聖冠) urged the city government to wait until after Jan. 23 to open the hall because zoo staff would have to work extra shifts on the day their families reunite for Lunar New Year.
In related news, Tang Cheng-juei (唐呈瑞), director of the Kaohsiung City Scenic Area Administration, said on Wednesday that the city was preparing to import two white tigers from China to be placed in the Shoushan Zoo in June.
The rare animals are a gift from Guangzhou's Xiangjiang Safari Park to promote friendship between the two cities, Tang said.
Additional reporting by CNA
Comments will be moderated. Keep comments relevant to the article. Remarks containing abusive and obscene language, personal attacks of any kind or promotion will be removed and the user banned. Final decision will be at the discretion of the Taipei Times.