Executive Yuan unveils counterfeit-proof vouchers
The Executive Yuan yesterday displayed counterfeit-proof consumer vouchers that are modeled after paper money so people can tell if they are real just by looking at them or feeling them.
To make counterfeiting the vouchers more difficult, seven kinds of technology were used in the design, Chao Chung-shing (周中興), chief of the Technical Research and Development Office of the Central Engraving and Printing Plant, told a press conference after the weekly Cabinet meeting.
Chao said people can see gold-to-green color shifts when they rotate the paper and feel the embossed texture when they touch the vouchers because of a letterpress design.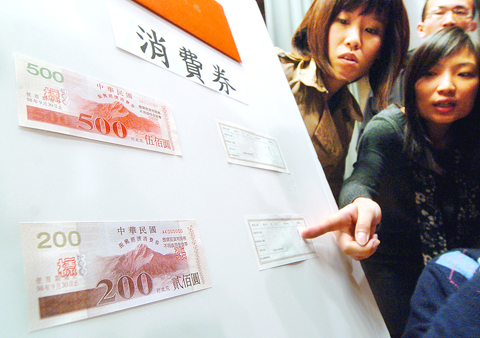 The Cabinet yesterday displays samples of the consumer vouchers to be issued to the public on Jan. 18.
PHOTO: FANG PIN-CHAO, TAIPEI TIMES
People will be able tell if a voucher is real by looking for a multi-layer watermark image of a plum blossom and its matched image on the opposite side when light passes through the paper.
Chao said that people can see tiny, hidden tiny characters embedded on the vouchers and different colored fibers when they are held under ultraviolet light.
The consumer vouchers are smaller than paper money, and the design features Yushan, the highest mountain in the country.
Every citizen and foreign spouse qualifying for the voucher will receive six red-colored vouchers with a face value of NT$500 each and three coffee-colored NT$200 vouchers in a "lucky envelope" with "Happy New Year" in Chinese characters on it to symbolize auspiciousness.
The government will distribute the NT$3,600 in consumer vouchers on Jan. 18, one week ahead of the Lunar New Year to boost spending.
Chou said that a voucher would be considered invalid if one-fourth of its area was damaged.
Comments will be moderated. Keep comments relevant to the article. Remarks containing abusive and obscene language, personal attacks of any kind or promotion will be removed and the user banned. Final decision will be at the discretion of the Taipei Times.