CROSS-STRAIT TALKS: INTERVIEW: Record store owner shares her story
PROS AND CONS Chang Pi said both police and protesters were responsible for the damage done to her store, but 200 copies of 'Songs of Taiwan' sold in a single day
While her music store Sunrise Records gained popularity overnight after the Songs of Taiwan incident, when asked for comment owner Chang Pi (張碧) said that she would leave it to the public to ponder the significance of the incident.
Sunrise Records started out 30 years ago selling classical music, as Chang believed that after leading a hardworking life, Taiwanese would need some quality music in their retirement to enhance their quality of living. Later, Chang began to sell music written by Taiwanese musicians in her store, regardless of the size of market demand.
On Tuesday night, when China's Association for Relations Across the Taiwan Strait Chairman Chen Yunlin (陳雲林) was at a banquet hosted by Chinese Nationalist Party (KMT) honorary chairman Lien Chan (連戰) at the Ambassador Hotel in Taipei, a crowd of pro-Taiwan demonstrators staged a protest outside the venue.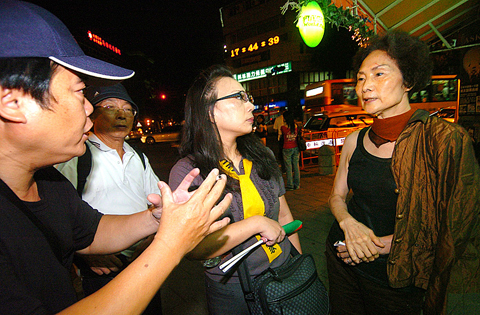 Sunrise record store manager Chang Pi, right, who was injured during a clash on Wednesday evening as police forced the store to stop playing Songs of Taiwan, speaks with people who came to the store to express sympathy and support yesterday.
PHOTO: CHIEN JUNG-FONG, TAIPEI TIMES
Part of the crowd spilled over to the sidewalk in front of Chang's music store, which is not far from the hotel.
Everything was calm at first.
A customer bought a CD titled Songs of Taiwan (台灣之歌) and asked Chang to play it in the store, she said.
"Over the past 30 years, we've always had speakers playing music," Chang said. "The songs on the CD are performed by a choir — some very soothing, beautiful music."
"As the music was on, people started dancing right on the spot, and more people gathered. It was difficult even for me to go into my store," Chang said.
All of a sudden, she said, police officers led by Taipei City's Beitou Precinct chief Lee Han-ching (李漢卿) entered the store and asked them to turn off the music.
The crowd started protesting and confronted the police.
During the standoff between the police and the crowd, not only were the store's shelves and roll-up door broken, Chang's face and arms were injured.
Internet users soon posted messages online supporting Chang.
"Banning a music store from freely playing a type of music is like banning Tibetans from worshipping the Dalai Lama," a message said.
"To the owner of Sunrise: Don't be afraid," another message said.
"So, we're officially under marital law again," another post said.
While many urged her to file a lawsuit, Chang has refused.
"I think the crowd and the police should both shoulder responsibility for breaking things in my store," she said in an interview with the Chinese-language Liberty Times (the Taipei Times' sister paper).
The day after the incident, many customers poured into the store to show support. The number of customers had tripled, Chang said.
Two hundred copies of Songs of Taiwan were sold in a single day, she said.
Very happy about the emotion that Taiwanese now seem to attach to Taiwanese music, Chang said: "I think it shows that it's impossible for China to take over Taiwan."
Comments will be moderated. Keep comments relevant to the article. Remarks containing abusive and obscene language, personal attacks of any kind or promotion will be removed and the user banned. Final decision will be at the discretion of the Taipei Times.