Jobless protesters appeal to Ma
NOT WORKING A crowd of demonstrators called on the president to make good on his campaign vow to extend the period an unemployed person is eligible for benefits
Dozens of unemployed people and their children staged a demonstration on Ketagalan Boulevard in front of the Presidential Office yesterday, urging President Ma Ying-jeou (馬英九) and his administration to help the jobless find employment.
"Being jobless is not just a problem for the unemployed worker, it also affects their circle of friends and their families," Hsiao Chung-han (蕭忠漢) of the Association for Rights of the Unemployed told the demonstrators, many of whom held placards showing images of Ma above the words "feel the pain of the people."


Huang Yao-hung (黃耀宏), 58, was one of the protesters.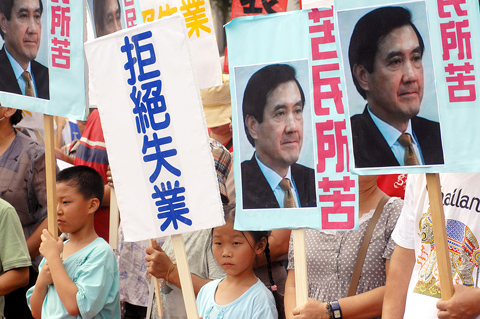 A group of protesters and their children holding images of President Ma Ying-jeou and signs gather in front of the presidential office in Taipei yesterday to protest rising unemployment rates. The placards read "Sympathize with People's Suffering" and "Refuse Unemployment." The unemployment rate rose to 3.95 percent in June from 3.84 percent in May as the number of first-time jobseekers increased, government statistics showed.
PHOTO: AFP
Huang, from Taichung, used to work for a machinery manufacturer, but lost his job when the company moved its factory to China several years ago.


"Now I only work low-paying part-time jobs, but I have five kids to feed — all college students," Huang said, adding that he needed to spend more than NT$100,000 on tuition fees for his children twice a year.


"All I want is for the government to help me find a stable job," he said.


Another protester, Liao Mei-jung (廖美蓉), whose husband was laid off when Chunghwa Telecom was privatized several years ago, agreed.


"Social welfare resources should be spent on taking care of those who can't work," Liao said. "Since we're still capable of working, providing job opportunities for us should be the priority."


Aside from economic pressure, she said, "the psychological pressure [of being jobless] is the most troubling."


In addition to offering help with finding stable employment, the demonstrators said the president should fulfill his campaign promise of extending the period of time an unemployed person is eligible to receive unemployment benefits from six months to one year.


They urged Ma to set up an unemployment rights commission under the Presidential Office "to periodically check employment promotion policies," Hsiao said.


The demonstrators' request to meet officials from the Presidential Office was not met yesterday as it was a weekend day.
Comments will be moderated. Keep comments relevant to the article. Remarks containing abusive and obscene language, personal attacks of any kind or promotion will be removed and the user banned. Final decision will be at the discretion of the Taipei Times.