CWB under fire for light storm forecast
UNPREDICTABLE The director of the Central Weather Bureau said that air currents that arrived with Tropical Storm Kalmaegi made it difficult to predict
The Central Weather Bureau (CWB) came under fire yesterday for its lack of accuracy in forecasts about Tropical Storm Kalmaegi, especially regarding the intensity of the rains.
Even President Ma Ying-jeou (馬英九) expressed dissatisfaction with the bureau, asking it yesterday to conduct a review and work to improve its weather reports.
In Taichung City's Mayuan (麻園), creeks and rivers overflowed, causing many main roads to flood. Taichung Mayor Jason Hu (胡志強) expressed shock over the extent of the flooding in the city.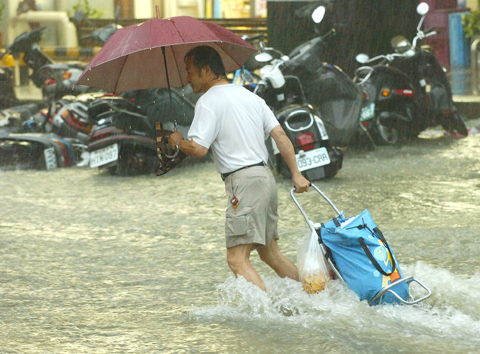 A Taichung resident braves the rain to buy food yesterday. Taichung's Daya Road was flooded because of rainfall as Tropical Storm Kalmaegi swept across Taiwan.
PHOTO: CHAN CHAO-YANG, TAIPEI TIMES
Director of the CWB's weather forecast center Daniel Wu (吳德榮) said yesterday that the bureau had warned two days prior that there would be heavy rains in central and southern regions.
Air currents to the west and south usually occur after a tropical storm, but in Kalmaegi's case, the currents occurred almost simultaneously with the tropical storm, he said.
"Therefore, the storm was extremely difficult to forecast," Wu said.
The CWB said later yesterday that an aircraft carrying weather reconnaissance equipment had been dispatched to collect information on the outer structure of the storm as it approached.
However, it still could not obtain detailed information on the intensity and changes in the typhoon's center, the bureau said.
The National Science Council has been supporting a project called the "Dropwindsonde Observation for Typhoon Surveillance near the Taiwan Region" (DOTSTAR), in which aircraft are sent close to the center of approaching typhoons to collect data on rain and wind conditions.
However, this was not enough, a bureau official said.
"The weather service in the US is able to dispatch a flight every six hours to continually observe changes in storms' structures," Wu said.
"However, DOTSTAR will only [dispatch a flight] once a typhoon comes close," the CWB director said.
The bureau's deputy director Shin Tzay-chyn (辛在勤) said the bureau would work with DOTSTAR scientists to expand the scale of the project.
Comments will be moderated. Keep comments relevant to the article. Remarks containing abusive and obscene language, personal attacks of any kind or promotion will be removed and the user banned. Final decision will be at the discretion of the Taipei Times.