Nephew visiting Taiwan to search for remains of kamikaze pilot, aircraft
Sato Mitsutaka, a nephew of a member of Japan's Kamikaze Special Attack Unit during World War II, arrived in Taiwan on Wednesday to find the remains of his uncle, whose plane was shot down by US forces 63 years ago near Lugang Township (鹿港) in Changhua County.
Thirty-three-year-old Mitsutaka is a special assistant to the Taiwan area chief of the Tokio Marine Newa Insurance Co.
Mitsutaka said his uncle, Sato Tsutomu, was stationed in Changhua during World War II and was shot down by US forces on Feb. 11, 1945, about 2km south of the military airfield.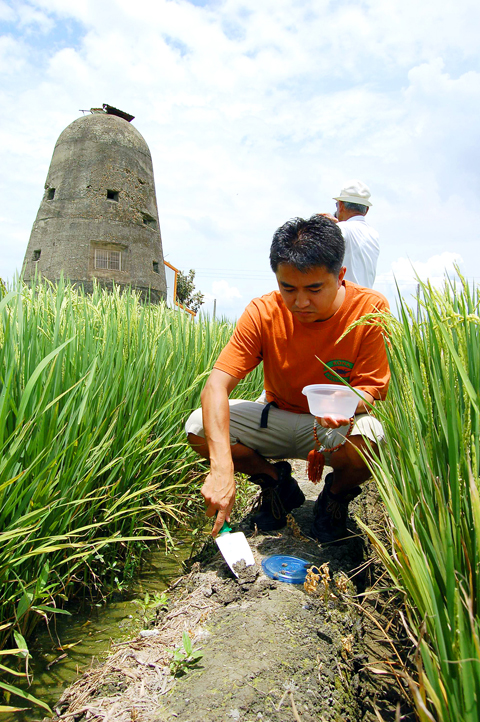 Sato Mitsutaka takes a portion of soil from the former site of a Japanese battery in Fanpo Village, Changhua County. Mitsutaka is the nephew of a Japanese pilot whose plane was shot down on Feb. 11, 1945.
PHOTO: JUAN YI-YU, TAIPEI TIMES
Mitsutaka's grandfather received a detailed account of the event from Tsutomu's captain, Nakaoga Ryo. However, the family was unable to find the remains of 23-year-old Tsutomu, or that of his aircraft. After the war, Tsutomu's name was entered in the Yasukuni Shrine, the only place where the family has been able to pay their respects.
SLIM CHANCE
Mitsutaka is trying to find the scene of the accident to search for the remains of his uncle or the aircraft. While aware of the fact that his chances of success are slim, Mitsutaka said he could at least carry some of the soil from the old airfield in memory of his uncle.
Chen Ching-huang (陳慶煌), chief of Puyan Township, one of the locations Tsutomu has visited as part of his search, has assisted Mitsutaka in finding local contacts and accompanying him to the site of the former airfield.
At each possible location, Mitsutaka makes detailed notes, takes photographs and digs up some of the soil to take back to Japan. Before departing, Mitsutaka also prays with Buddhist prayer beads for the peace of Tsutomu's soul.
Comments will be moderated. Keep comments relevant to the article. Remarks containing abusive and obscene language, personal attacks of any kind or promotion will be removed and the user banned. Final decision will be at the discretion of the Taipei Times.