ANALYSIS: Extent of DPP election loss surprises many
CHARISMA A professor of sociology pointed to Ma Ying-jeou's popularity as the reason why people are willing to overlook his shortcomings as a public servant
While opinion polls predicted a Democratic Progressive Party (DPP) loss in Saturday's presidential election, the extent of its defeat came as a surprise to some, especially in the south, traditionally considered a DPP stronghold.
Speaking on the loss of support in the south, Kaohsiung Mayor Chen Chu (陳菊) said that although DPP presidential candidate Frank Hsieh (謝長廷) performed well as the city's mayor, it may have been regarded as irrelevant and the party might not have packaged Hsieh's achievements very well.
Hsieh garnered over 48 percent of the votes in Kaohsiung City, while his Chinese Nationalist Party (KMT) rival Ma Ying-jeou (馬英九) gathered nearly 52 percent.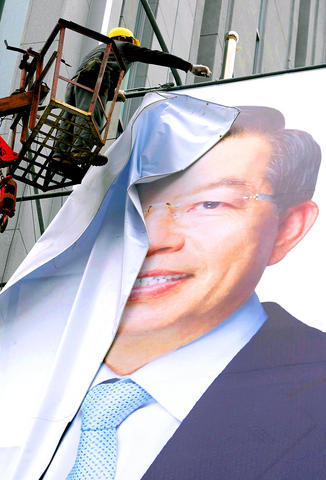 A worker yesterday takes down a campaign poster of former Democratic Progressive Party presidential candidate Frank Hsieh at the DPP campaign headquarters in Taipei City.
PHOTO: CNA
The DPP ticket won in only five counties: Yunlin, Chiayi, Tainan, Kaohsiung and Pingtung.
Despite Ma's not-so-memorable achievements during his stint as Taipei mayor, analysts said Ma's good looks and charisma made him immune to criticism.
In fact, since taking office in December 1998, not a single opinion poll -- including those conducted by private groups as well as the city government -- has ever put Ma in a negative light.
In Saturday's election, Ma collected a record high number of votes since the first direct presidential election in 1996. Ma secured 58.45 percent of the ballots, or over 7.5 million, with the DPP ticket garnering 41.55 percent, or about 5.4 million.
At an election-eve rally in Taipei City, Hsieh could not help but complain that the public has adopted a "double standard" where Ma is concerned.
"I wonder whether the public would forgive President Chen [Shui-bian (陳水扁)] if he were embroiled in a green card controversy like Ma," he said to the crowd.
Hsieh has accused Ma of holding a US green card since 1977, while Ma has said his green card was automatically invalidated in 1985 when he applied for a visa to travel to the US.
Ku Chung-hwa (顧忠華), a professor of sociology at National Chengchi University and an executive member of the Taipei Society, pointed to Ma's overwhelming popularity as the reason why many people are willing to overlook his shortcomings as a public servant.
"We call it the charisma phenomenon -- a form of idolatry," he said.
Political analyst Antonio Chiang (江春男), a former Taipei Times editor-in-chief, agreed, saying that although Hsieh was more capable, eloquent and smarter than Ma, most Taiwanese tend to identify more with someone who is less articulate and more simple.
"It was Ma's success, not the KMT's," he said. "It was President Chen who defeated the DPP. It was an impossible task under the circumstances no matter how hard Hsieh tried."
In addition to personal charisma, Chiang said Ma successfully created the image that he was connected with Taiwan, an issue his predecessors avoided.
"No matter how true his intention was, he deserves some credit for moving away from China and toward Taiwan," Chiang said.
"It was meaningful to have the first [democratically elected] China-born president in Taiwan," he said.
Since the loss on Saturday, party heavyweights have been keeping a low profile, but most agree that the DPP must take a good look at itself and finger-pointing is rife.
Vice President Annette Lu (呂秀蓮) was the first to criticize Hsieh, saying that he had distanced himself from President Chen, making her and the president unable to help in the campaign as much as they had hoped.
Pingtung County Commissioner Tsao Chih-hung (曹啟鴻), however, blamed President Chen for being "reckless" and "straightforward" in his words, therefore causing much harm to the party.
Some targeted former secretary-general of the Ministry of Education Chuang Kuo-rong (莊國榮) for his derogatory remarks about Ma's late father as well as Minister of Education Tu Cheng-sheng (杜正勝), who had apologized for Chuang's conduct.
Tsai Chia-hung (蔡佳泓), an associate research fellow at National Chengchi University's Election Study Center, said that it was a myth that the south has traditionally been the stronghold of the DPP, at least not in the 2000 presidential election.
Statistics showed that except for Tainan County, the KMT ticket of former vice president Lien Chan (連戰) and Vincent Siew (蕭萬長) and the independent ticket of James Soong (宋楚瑜) and Chang Chao-hsiung (張昭雄) together garnered more votes in Kaohsiung County, Kaohsiung City, Tainan City and Pingtung County than thee DPP ticket.
In the 2004 presidential election, the ratio between DPP and KMT tickets in the south changed from 4 to 5 to 5 to 4 and in Tainan County from 4 to 5 to 6 to 3.
One of the reasons that the south is growing more DPP friendly is that residents there are worse-off than their northern counterparts so they depend more on government subsidies and therefore tend to support those who give them , Tsai said.
Tsai said Saturday's election also proved that the identity card was simply not enough to win this year's election.
The KMT not only tackled the identity issue head on but also focused on improving the economy, stoking public dissatisfaction with the current administration's economic policy, he said.
Compounding the problem was the negative coverage by some KMT-friendly media outlets, Tsai said. It drove away younger voters who consume such media.
Comments will be moderated. Keep comments relevant to the article. Remarks containing abusive and obscene language, personal attacks of any kind or promotion will be removed and the user banned. Final decision will be at the discretion of the Taipei Times.