Presidential election 2008: 9 days to go: DPP wants lawmakers investigated
The Democratic Progressive Party (DPP) yesterday asked for a special task force to investigate whether any lawmakers hold dual citizenship.
"We will file an official proposal asking Legislative Speaker Wang Jin-pyng (王金平) to organize a special task force to make sure that no [legislator] holds dual citizenship," DPP caucus whip William Lai (賴清德) told the media.
Lai's announcement follows a story in the latest edition of the Chinese-language Next Magazine, which said that Chinese Nationalist Party (KMT) Legislator Diane Lee (李慶安) is a citizen of both Taiwan and the US.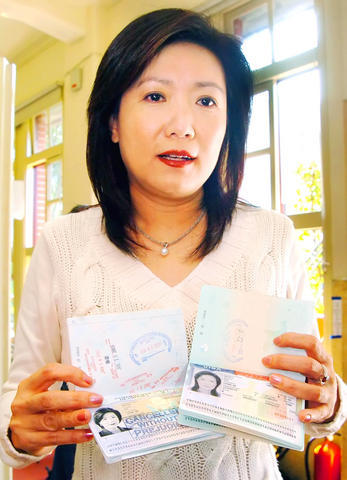 Chinese Nationalist Party (KMT) Legislator Diane Lee dismisses a story published in Next Magazine during a news conference in Taipei yesterday.
PHOTO: CHU PEI-HSIUNG, TAIPEI TIMES
Article 20 of the Nationality Law (國籍法), which came into effect on June 20, 2001, states that foreign citizens are prohibited from holding government office.
If found to hold dual citizenship, deputy caucus whip Chiu Yi-ying (邱議瑩) said Lee would be required to return income estimated at NT$100 million (US$3.2 million).
Chiu said Lee earned approximately NT$19 million during her term as a Taipei City councilor between 1994 and 1998. Since 1998, Chiu said, Lee earned another NT$78 million as a lawmaker.
"In addition to leaving the legislature, she would be required to return the money," Chiu said.
Approached for comment, Lee dismissed the allegations.
Lee said she was granted a US green card approximately 20 years ago when her husband was working in the US. She said she obtained permanent residency in 1985 and US citizenship in 1991.
Showing the media two Taiwanese passports and two used US visitor's visas, Lee said she had given up her US citizenship after returning to Taiwan to serve as a government official.
"For many years, I've used my Taiwanese passport and US [visitor's] visas [to enter the US]," she said.
Lee declined to specify when and how she had given up her US citizenship.
Additional reporting by Flora Wang
Comments will be moderated. Keep comments relevant to the article. Remarks containing abusive and obscene language, personal attacks of any kind or promotion will be removed and the user banned. Final decision will be at the discretion of the Taipei Times.