Presidential election: 26 days to go: Former DPP chairman Hsu joins Hsieh ranks
Former Democratic Progressive Party (DPP) chairman Hsu Hsin-liang (許信良) paid a visit yesterday to DPP presidential candidate Frank Hsieh's (謝長廷) campaign headquarters to show his support before Hsieh was set to appear in the first televised debate with his Chinese National Party (KMT) rival Ma Ying-jeou (馬英九).
Hsu's endorsement of Hsieh was as an apparent move away from the pan-blue camp, with which he had been closely associated in the past few years, particularly during the campaign against President Chen Shui-bian (陳水扁) initiated by former DPP chairman Shih Ming-teh (施明德) in August 2006.
Hsu praised Hsieh's long-term fight in the name of democracy and urged Taiwanese not to allow the KMT to holf a monopoly over politics in Taiwan.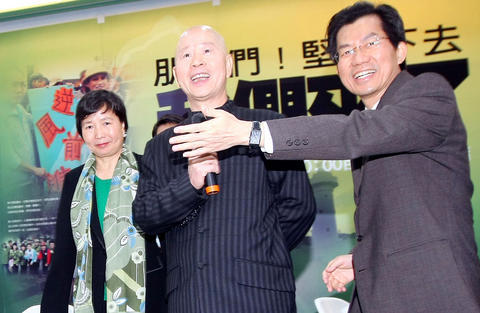 Former Democratic Progressive Party (DPP) chairman Hsu Hsin-liang speaks at DPP presidential candidate Frank Hsieh's campaign headquarters yesterday. He is flanked by Hsieh campaign managers Yeh Chu-lan, left, and Lee Ying-yuan.
PHOTO: CNA
Hsieh is among the few in the pan-green camp to have espoused rational and practical cross-strait policies, Hsu said, adding that Hsieh's voice as an executive leader would be more powerful than Ma's.
Hsu said he had always liked Hsieh's take on China-Taiwan relations and that while Hsieh and Ma's views on the matter did not differ much, Hsieh's experience as a civil rights activist made him a more competent candidate for democracy than Ma, whose experience Hsu said comes not from practice but from education.
Asked to comment on allegations that Hsieh had served as a informant for the KMT government, Hsu said his own experience of being misunderstood throughout his political life made him empathize with Hsieh.
Comments will be moderated. Keep comments relevant to the article. Remarks containing abusive and obscene language, personal attacks of any kind or promotion will be removed and the user banned. Final decision will be at the discretion of the Taipei Times.