Hsieh and Ma continue their war of words
TIME TO SAY SORRY Spokesman for Ma Ying-jeou's camp, Lo Chih-chiang said that the DPP presidential candidate's camp should apologize for it blunders
Democratic Progressive Party (DPP) presidential candidate Frank Hsieh (謝長廷) and his Chinese Nationalist Party (KMT) counterpart Ma Ying-jeou (馬英九) continued a war of words yesterday over a slew of allegations recently lodged by Hsieh and his camp.
While Ma yesterday described Hsieh as the "head of the secret service" for coming up with a series of allegations against him, Hsieh said he did not deserve the title because he did not torture Ma to force him to reveal his own irregularities.
"Ma puts himself in an embarrassing situation because he does not tell the truth," Hsieh said. "He should do some soul searching of his own."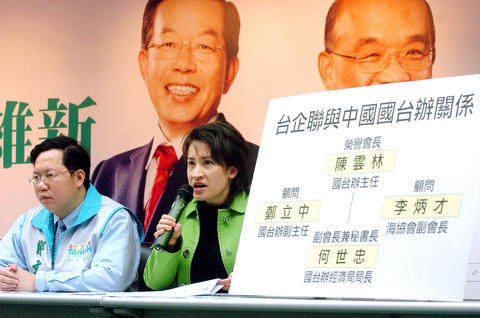 Hsiao Bi-khim, right, a spokeswoman for Democratic Progressive Party presidential candidate Frank Hsieh, criticized the Association of Taiwan Investment Enterprise on the Mainland at a press conference in Taipei yesterday. She said the group was encouraging China-based Taiwanese to return home on discounted plane tickets to vote in the March 22 presidential election.
PHOTO: LO PEI-DER, TAIPEI TIMES
The Hsieh camp yesterday continued to pressure Ma to explain whether he had taken bribes from an architect's association in exchange for revising a renovation code in their favor.
Chiu Yi-ying (邱議瑩), a Hsieh camp spokesperson, claimed that Ma accepted NT$500,000 from Taipei City's Association of Architects in 1998 when Ma was city mayor and a renovation code was amended in 2001 in favor of architects.
Chiu asked Ma to offer a clear account on whether there was any connection between the two.
Shen Fa-hui (沈發惠), a Hsieh camp spokesman, said Ma would put his credibility in jeopardy if he had accepted the money but refused to admit it.
Another Hsieh spokesperson Hsieh Hsin-ni (謝欣霓) asked Ma to explain how he managed to save NT$40 million in 10 years.
Hsieh Hsin-ni said she would like to know whether Ma's wealth had anything to do with the "outstanding" ability of financial management of his wife, Chow Mei-ching (周美青).
While the Ma camp admitted that Chow did sell some shares of Mega Financial Holdings (兆豐金控) between July 13, 2004, and Sept. 13, 2004, Hsieh Hsin-ni said that she would like to know why the timing was so perfect that the share prices had gone back up again since Chow sold the stocks.
"I think she deserves the title `the 2008 queen of stocks,'" Hsieh Hsin-ni said.
In response, Ma spokesman Lo Chih-chiang (羅智強) yesterday rebutted the allegations and said the Hsieh camp should apologize for its "blunders."
In related developments, the Hsieh camp yesterday also questioned the relationship between Beijing and a Taiwanese business association, saying that the association is staffed with high-ranking Chinese officials.
Hsiao Bi-khim (蕭美琴), a Hsieh camp spokesperson, said the Association of Taiwan Investment Enterprises on the Mainland was ostensibly is an organization serving China-based Taiwanese businesspeople but in fact is controlled by the Chinese government.
Hsiao said the honorary chairman of the association is Chen Yunlin (陳雲林), director of the Chinese State Council's Taiwan Affairs Office (TAO). The vice chairman and secretary-general is He Shizhong (何世忠), director of TAO's Economic Bureau, Hsiao said.
Two of the association's advisors are Zheng Lizhong (鄭立中), deputy director of the TAO, and Li Bingcai (李炳才), standing deputy director of China's Association for Relations Across the Taiwan Strait, she said.
Hsiao said China's attempt to interfere in Taiwan's election is apparent because flight discounts have been offered to China-based Taiwanese businesspeople returning home between March 1 and March 22, the day of the presidential election.
Hsieh said in Kaohsiung yesterday that those who found offering flight discounts to eligible voters returning home to vote for specific candidates would run the risk of breaking the law if such an incident happened in Taiwan.
Ma, at a separate setting yesterday, said China ought to be condemned if its intervention in Taiwan's presidential election were found to be true.
ADDITIONAL REPORTING BY STAFF WRITER
Comments will be moderated. Keep comments relevant to the article. Remarks containing abusive and obscene language, personal attacks of any kind or promotion will be removed and the user banned. Final decision will be at the discretion of the Taipei Times.