Patient recovers after 117 days of ECMO treatment
BEATING THE ODDS Hospitalized after nearly drowning in 2007, Hu was kept alive by ECMO therapy, which is usually reserved for short-term life support measures
Doctors at a local hospital lauded the "miraculous" recovery of a man, who spent a record 117 days on ECMO therapy and will be leaving hospital in time to spend Lunar New Year with his family.
ECMO, or Extracorporeal Membrane Oxygenation, oxygenates blood and removes carbon dioxide from patients whose cardio-pulmonary systems have ceased to function normally.
While the use of ECMOs is relatively common, what made the case unusual was the fact that the patient was kept alive by the system -- usually reserved for short-term life-support measured in days -- for almost four months, doctors at National Taiwan University Hospital (NTUH) said.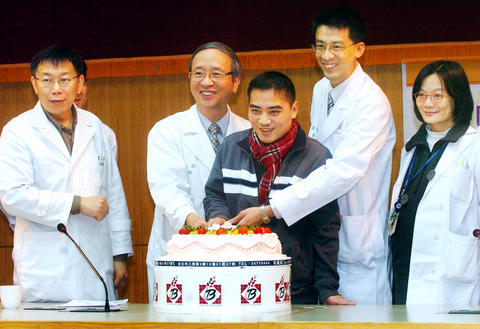 National Taiwan University Hospital doctors, from left, Ko Wen-che, Lee Yung-chie, Wang Chih-hsien and Han Yin-yi, cut a cake with their patient, surnamed Hu, center, to celebrate his recovery yesterday in Taipei.
PHOTO: CHEN TSE-MING, TAIPEI TIMES
After nearly drowning on July 22 last year, the 26-year-old man surnamed Hu (胡) suffered from pulmonary edema. His lungs almost completely ceased to function, the doctors said.
"You can see on the X-rays that both sides of his lungs had turned opaque, which means they were permeated with water," said Tsai Keh-sung (蔡克嵩), a vice superintendent at NTUH.
Hu's lung almost completely ceased to function at one point, making it necessary for him to be hooked up to two ECMO machines at the same time.
"The fact that he recovered is something of a miracle," said Lee Yung-chie (李元麒), a chief physician at the hospital's department of traumatology. "We considered him a candidate for a lung transplant, but there were no suitable donors."
Wang Chih-hsien (王植賢), one of the specialists who tended to Hu, said he estimated the hospital incurred costs of NT$2.5 million on Hu's care in the first month alone.
"The first month is the most expensive as he had to be hooked up to two ECMOs," he said.
The use of ECMOs is covered by the National Health Insurance (NHI), but hospital doctors said that reimbursement by the NHI have to be approved on a case-by-case basis.
"In around 11 percent of cases, reimbursement is denied," said Ko Wen-che (柯文哲), a NTUH specialist who pioneered the use of ECMO treatment in the country.
In such cases the hospital is required to absorb the cost rather than passing it on to the patients.
Although ECMO has been in use for 14 years, the treatment has come under the spotlight in recent years. Many patients' families now request ECMO treatment by name when their loved ones are in critical condition, while others have criticized hospitals for overusing the expensive treatment on unsuitable candidates.
"Deciding whether to treat a patient with ECMO is an agonizing choice," Ko said.
"It's even harder to decide when to turn the ECMO off," Ko said.
About 150 patients were put on ECMO therapy last year at NTUH, more than any other hospital in the world. Sixty survived, a success rate of just 40 percent.
"But without the ECMO, every one of those 60 people would be dead," Ko said.
Comments will be moderated. Keep comments relevant to the article. Remarks containing abusive and obscene language, personal attacks of any kind or promotion will be removed and the user banned. Final decision will be at the discretion of the Taipei Times.