Hsieh camp dismisses hen-and-chicks complaint
Democratic Progressive Party (DPP) presidential candidate Frank Hsieh's (謝長廷) camp yesterday dismissed complaints that he has not been campaigning aggressively enough for his party's legislative candidates.
Former DPP chairman Yu Shyi-kun, who heads the DPP electoral campaign, said on Wednesday some pro-independence groups had told him that the party's internal relations between the legislative elections next week and the presidential poll in March should be like that between a hen and its chicks.
However, they told Yu, the hen -- referring to Hsieh -- was too busy, so they didn't have much choice but to ask the rooster -- President Chen Shui-bian (陳水扁) -- to take care of the matter.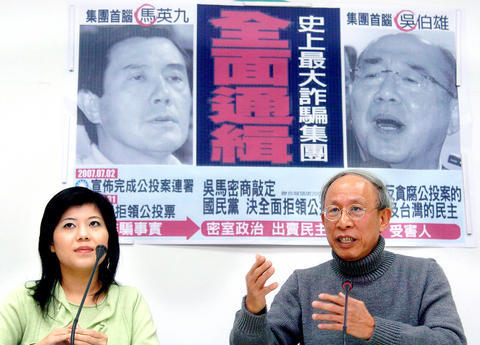 Democratic Progressive Party (DPP) caucus whip Wang Tuoh, right, and DPP Culture and Information Department director Hsieh Hsin-ni hold a press conference yesterday, condemning the Chinese Nationalist Party (KMT) for telling supporters not to vote in the upcoming referendums.
PHOTO: LIAO CHENG-HUEI, TAIPEI TIMES
Hsieh spokesman Chao Tien-lin (趙天麟) said Yu's comment had been a "friendly reminder," but was blown out of proportion by "certain media."
"It proves the Chinese Nationalist Party [KMT] is anxious about the elections and came up with this kind of scheme to split the DPP," he said.
Chao said many DPP members realized that while Chen and Hsieh used different campaigning tactics, they both worked toward the same goal, which is to secure a majority in the legislature.
Among the 73 constituencies, Chao said, Hsieh has visited 71, some of them quite frequently.
While Hsieh's electioneering effort focuses on the legislative candidates themselves, KMT presidential candidate Ma Ying-jeou (馬英九) tends to steal the media spotlight from the KMT legislative candidates he is supposed to promote, Chao said.
Hsieh's running mate, Su Tseng-chang (蘇貞昌), yesterday said it was part of Hsieh's campaign strategy to work in cooperation with Chen and himself to promote the party's legislative candidates, adding that Hsieh followed his own pace.
In another development, KMT Chairman Wu Poh-hsiung (吳伯雄) yesterday condemned the DPP for accusing him and Ma of "selling out democracy," and dared Chen to declare martial law.
The DPP carried an advertisement in several Chinese-language newspapers yesterday featuring a wanted poster for Wu and Ma, portraying them as heads of a ring of swindlers selling out the country's democracy by urging voters not to cast referendum ballots.
The ad called on voters to support the DPP.
"The KMT refuses to cast referendum ballots in order to simplify the election process. I call on President Chen not to play dirty tricks," Wu said yesterday while campaigning for KMT legislators in Kaohsiung City. "I dare Chen to declare martial law and bring me and Ma to justice under military rule."
ADDITIONAL REPORTING BY MO YAN-CHIH
Comments will be moderated. Keep comments relevant to the article. Remarks containing abusive and obscene language, personal attacks of any kind or promotion will be removed and the user banned. Final decision will be at the discretion of the Taipei Times.