St. Lucia customs woes show utility of new passport
For Tsai Jo-shih (蔡若詩), a Taiwanese visitor to St. Lucia, the new Taiwanese passport bearing the name "Taiwan" on its cover would have come in handy. As he entered the country on Nov. 25 with an old passport, officials believed he was Chinese and requested that he pay a US$50 visa fee.
"I had never imagined the word `Taiwan' on the passport would be so useful," Tsai said upon retrieving his confiscated passport and visa fee after the Taiwanese embassy intervened on his behalf on Wednesday.
The misunderstanding arose when Tsai handed customs officials his Taiwanese passport, issued in 2001, to enter St. Lucia during the Taiwan Bird Observation Team's visit to the country.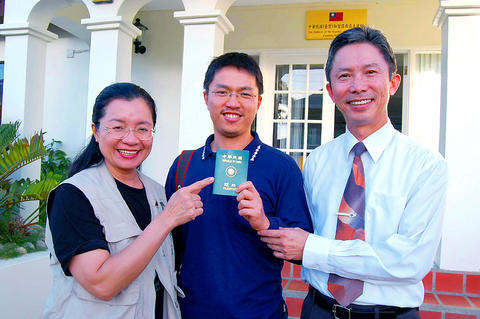 Tsai Jo-shih holds up his passport in St. Lucia on Friday. Tsai is flanked by Taiwanese Ambassador to St. Lucia Tom Chou and Taiwan Bird Observation Team leader and Democratic Progressive Party Legislator Tien Chiu-chin.
PHOTO: CHENG HSU-KAI, TAIPEI TIMES
The team, of which Tsai is a member, was commissioned to help St. Lucia investigate, observe and establish a database for its bird population.
The new version of the Taiwanese passport, with the name "Taiwan" on the cover, started being issued on Sept. 1, 2003.
Mistaking Tsai's old passport for a Chinese one, St. Lucia immigration officers confiscated his passport and asked him to pay the US$50 visa fee.
Taiwanese Ambassador to St. Lucia Tom Chou (周台竹) said that while Taiwanese visitors to St. Lucia enjoy visa-free entry, the same mechanism does not apply for Chinese visitors.
Many people cannot tell Taiwan from China, he said.
"Adding `Taiwan' on the cover of the passport is the right policy and it would have solved the problem in this case," Chou said.
Team leader Tien Chiu-chin (田秋堇), who is also a Democratic Progressive Party legislator, said that Chinese passport holders are often questioned at customs and have to go through stricter security checks because of the great number of Chinese human smugglers.
St. Lucia first established diplomatic ties with Taiwan in 1984, before switching diplomatic recognition to China.
It restored diplomatic relations with Taiwan on April 26. On April 30, St. Lucia Minister of Foreign Affairs Rufus Bousquet and his Taiwanese counterpart, James Huang (黃志芳), signed a joint communique on restoring ties between the two countries in Castries.
Comments will be moderated. Keep comments relevant to the article. Remarks containing abusive and obscene language, personal attacks of any kind or promotion will be removed and the user banned. Final decision will be at the discretion of the Taipei Times.