DPP launches scandal task force
The Democratic Progressive Party (DPP) caucus yesterday formed its own task force for keeping an eye on allegations involving Chinese Nationalist Party (KMT) presidential candidate Ma Ying-jeou (馬英九), prompted by what it called unfairness on the part of the Special Investigation Task Force.
DPP legislative whip Wang Sing-nan (王幸男) told a press conference that it was unfair of the Special Investigation Task Force to reopen several cases involving allegations against DPP presidential candidate Frank Hsieh (謝長廷) while failing to probe cases involving Ma.
The caucus will therefore spend nine consecutive days "publicizing the details of Ma's nine cases," Wang said.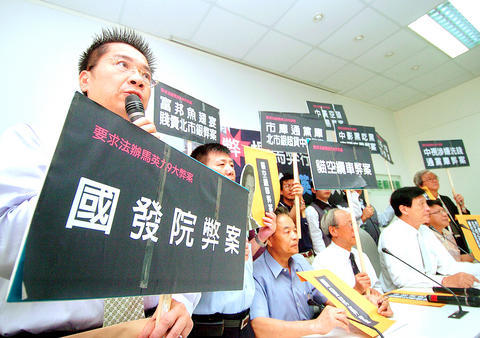 Democratic Progressive Party (DPP) legislators and Taipei City Council members yesterday launch a nine-day campaign to publicize details of nine scandals allegedly involving Chinese Nationalist Party (KMT) presidential candidate Ma Ying-jeou.
PHOTO: FANG PIN-CHAO, TAIPEI TIMES
Wang led a group of DPP legislators to State Public Prosecutor-General Chen Tsung-ming's (陳聰明) office in Taipei, armed with documents they had gathered concerning allegations against Ma. The group called on prosecutors to investigate the scandals.
One of the nine cases consists of allegations that corners were cut during the construction of Taipei Arena to ensure it would open before Ma's term as Taipei mayor ended in December last year.
Another scandal concerns the stock share transfer of the KMT-owned Broadcasting Corp of China to former UFO Radio chairman Jaw Shaw-kong (趙少康) during Ma's stint as KMT chairman.
In addition, the caucus questioned expressed concern over possible irregularities in the construction of the Maokong cable car system in Taipei, which made its debut earlier this month.
The caucus' move yesterday came on the heels of a request made by Hsieh's office on Monday that documents seized by investigators over bribery allegations against Hsieh be protected.
The allegations, which concern Yu Huang Temple (玉皇宮), erupted in 2002, while Hsieh was mayor of Kaohsiung.
Hsieh was charged with having accepted a kickback of NT$2.8 million (US$84,850) from Hsu Wen-liang (許文良), the temple's head, in return for his approval of plans to add on to the temple on municipal property.
Hsieh has maintained that the money transfer was a political donation and said that he had quickly returned it to the temple to avoid controversy. Hsieh said the temple later returned the money to his support group, and he therefore used it to purchase two ambulances still in use in Kaohsiung.
"Ma's special allowance fund case is not the only case he is involved in," DPP Legislator Hsu Kuo-yung (徐國勇) said yesterday. "The profits behind the [nine] cases could amount to tens of billions [of NT dollars.]"
When asked for comment in Hsinchu, Hsieh said the number of lawsuits brought against him did not exceed those against Ma.
"It is very strange of Ma to attack me [based on the number of lawsuits against me] because he is indicted on corruption charges," Hsieh said.
Ma is standing trial for allegedly misusing a special mayoral allowance fund during his eight years as Taipei mayor, embezzling a total of NT$11 million.
Asked whether someone was conspiring to undermine Hsieh's chances of winning next year's presidential poll, Wang said it was possible, adding that "prosecutors and the KMT" could be behind such a conspiracy.
In response to the DPP's move, Ma's camp yesterday suggested the DPP spend its time investigating its own candidate instead.
"If the DPP has sufficient resources to establish such a center, I suggest that the party take a look at Frank Hsieh's cases first," Ma's spokesman, Lo Chih-chiang (羅智強), said yesterday in Taichung.
Ma yesterday declined to comment on the DPP's attack.
Ignoring attacks from Hsieh's camp, Ma said he would continue his trip around the nation "with sincerity," while Lo added that Ma might accept the US' invitation to visit the country in September after campaigning across Taiwan.
Additional reporting by Mo Yan-chih and Shih Hsiu-chuan
Comments will be moderated. Keep comments relevant to the article. Remarks containing abusive and obscene language, personal attacks of any kind or promotion will be removed and the user banned. Final decision will be at the discretion of the Taipei Times.