Doctors condemn betel nut event
Doctors and oral cancer patients yesterday condemned a "betel nut culture convention" which began yesterday in Kaohsiung.
The convention features betel nut products, betel nut art and a bevy of scantily clad girls, better known as "betel nut beauties" (檳榔西施).
Taking advantage of the sizeable number of foreign visitors to the convention, the organizers held an impromptu "big nose betel nut rolling" competition.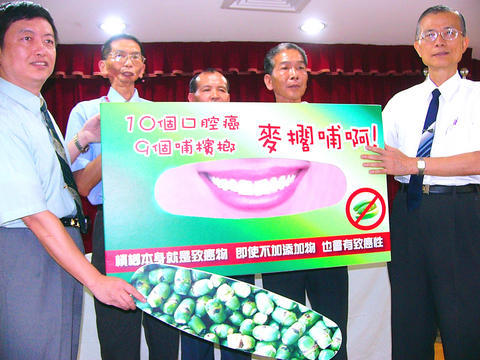 Officials, doctors and patients yesterday urge people not to chew betel nut in a bid to cut rates of oral cancer during a press conference held by the Bureau of Health Promotion. Their placard reads, ``Stop chewing betel nut!''
PHOTO: HU CHING-HUI, TAIPEI TIMES
"Many foreign visitors were curious to try betel nut for the first time," Li Shuo-min (李碩敏), one of the event organizers, said yesterday.
"Betel nut use is a part of Taiwanese culture, and should not be oppressed by the government," she said.
criticism
Although Li claimed that the convention was about "celebrating betel nut culture" rather than promoting betel nut use, the event nonetheless drew criticism from Hahn Liang-jiunn (韓良俊), chairperson of the Department of Health's (DOH) Committee on Dental Medicine.
"Can you imagine a similar event being held to promote tobacco?" asked Hahn at a press conference held in Taipei by the DOH's Bureau of Health Promotion.
Critical of the government's relatively lax regulation of the addictive seed of the betel palm, Hahn said that standards for advertising and warning labels should be as strict for betel nuts as for tobacco.
"The medical evidence is clear -- betel nut is harmful to human health," he said.
"The nut itself, not just the lime paste it is served with, has been identified as carcinogenic in humans by the International Agency for Research on Cancer," Hahn said.
He also slammed the Council of Agriculture (COA) for not doing more to discourage the crop.
"Betel nut should not be considered just another crop. It certainly should not be subsidized by the government," Hahn said.
"The proposed reimbursement for betel nut farmers whose crops are destroyed by natural disasters is still under discussion," said Huang Mei-hua (黃美華), director of the COA's crop production division.
mouth cancer
Sixty-year-old Tsai Lin-chang (蔡林樟) shared his story at the press conference to illustrate Hahn's concerns. Tsai contracted mouth cancer in his left cheek in his twenties after heavy betel nut use in his youth.
Yet he continued to chew until he got mouth cancer a second time, this time in his right cheek which resulted in the removal of much of his cheek and jaw.
"Chewing betel nuts is just not worth it," he said, having been left permanently disfigured and with a speech impediment.
"No matter how they package it or who is selling it, a betel nut is a betel nut and it will still give you cancer," he said. "Don't be fooled by the marketing."
Studies have shown that in countries and communities where betel nut is consumed extensively, there are vastly higher levels of oral cancer than elsewhere.
Betel nut chewers in Taiwan have been found to have a 28 times higher risk of acquiring oral cancer than non-users.
Betel chewing is addictive, and some practitioners consume vast quantities.
Comments will be moderated. Keep comments relevant to the article. Remarks containing abusive and obscene language, personal attacks of any kind or promotion will be removed and the user banned. Final decision will be at the discretion of the Taipei Times.