Wang Jin-pyng denies link to new political party
Legislative Speaker Wang Jin-pyng (王金平) of the Chinese Nationalist Party (KMT) yesterday denied any link to a new political party being formed by Kaohsiung County Farmers' Association director Hsiao Han-chun (蕭漢俊), a staunch supporter of Wang.
Hsiao plans to launch the new party next Friday with the aim of winning legislator-at-large seats. The party is expected to be composed of farmers' associations.
"Our goal for the party is to garner at least 5 percent of the vote so that we can secure three legislator-at-large seats," Hsiao said.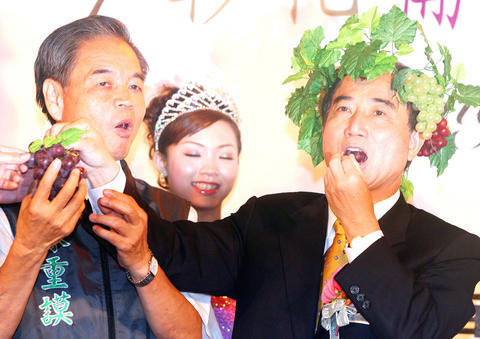 Legislative Speaker Wang Jin-pyng, wearing a bacchic laurel of grapes, eats a grape while participating in a promotional activity for Changhua County grapes in Taipei. Wang is joined by Democratic Progressive Party Legislator Lin Choung-mo, left.
PHOTO: WANG YI-SUNG, TAIPEI TIMES
Observers have speculated that Wang, who last Friday declined an offer to serve as KMT presidential candidate Ma Ying-jeou's (馬英九) running mate, was behind the formation of the new party.
Wang denied this while acknowledging that he is "on good terms with farmers around the country."
"I had no idea that [the farmers' associations] were organizing a new party," Wang said when approached for comment yesterday.
KMT Legislator Pai Tien-chih (白添枝) and Taiwan Provincial Farmer's Association (TPFA) director Chang Yong-cheng (張永成), both close to Wang, were also linked to the new party but similarly denied any involvement.
Hsiao dismissed the rumors about Wang, saying that the party was being established to provide a voice for disadvantaged farmers and that the legislative speaker had played no part in the process.
Wang and Hsiao both belong to the KMT's White faction, one of the party's two major factions in Kaohsiung County.
Ma yesterday dismissed speculation over Wang's connection with the new party as "groundless," but added that the KMT would enhance its communication with farmers.
TPFA says the farmers' associations have 1.8 million members.
Additional reporting by Mo Yan-chih
Comments will be moderated. Keep comments relevant to the article. Remarks containing abusive and obscene language, personal attacks of any kind or promotion will be removed and the user banned. Final decision will be at the discretion of the Taipei Times.