Councilor says Ilan road signs offer mixed messages
LOST IN TRANSLATION With spellings like 'piver' and 'rark,' it's no wonder foreign tourists frequently get lost in the county, Hsieh Chih-deh says
Error-laden English road signs in Ilan County have recently faced harsh scrutiny from one of the county's councilors.
Ilan County Councilor Hsieh Chih-deh (謝志得) said there are so many spelling mistakes on Ilan's road signs that foreign tourists often get lost when traveling in the county, which hosts numerous international events.
Hsieh said that there are currently seven different versions of the English for "Dongshan River Water Park" (冬山河親水公園), the county's most famous scenic spot, and foreign tourists find the phenomenon very puzzling.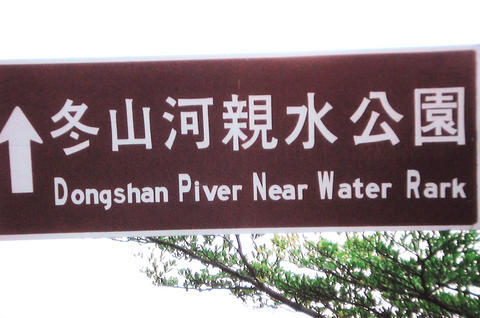 A road sign with a misspelled translation of the Dongshan River Park is pictured yesterday in Ilan County. Local officials are calling for correct and standardized English spelling on signs in the county.
PHOTO: YU MING-CHIN, TAIPEI TIMES
In addition to the official version, "Dongshan River Park," a couple of signs say "piver" and "rark" instead of "river" and "park," and then there are also a couple of versions simply romanizing the Chinese name for the park in different ways.
Similar errors are found in signs for Ilan's other attractions, Hsieh said. For example, the county-ordained version of Luodong Sports Park (羅東運動公園) is also written on some road signs as "Luo dung yun dung gung yuan," a romanization of the Chinese which many foreigners are unlikely to understand.
Yu Wen-hsiang (游文祥), director of the county's Bureau of Business and Travel, said that translations and spellings of names of streets and scenic spots differ because the Directorate General of Highways take charge of provincial highways and county thoroughfares, while each county government is responsible for managing village and township streets.
Nevertheless, Yu said that in 2003, the Ilan County Government had approved a standardized version for each of the county's tourist spots.
Therefore, the country government would begin to coordinate between the various agencies and present a standard English version for place names around the country, he said.
Comments will be moderated. Keep comments relevant to the article. Remarks containing abusive and obscene language, personal attacks of any kind or promotion will be removed and the user banned. Final decision will be at the discretion of the Taipei Times.