Collectors compete for newly issued 228 stamps
LIMITED SUPPLY The Taipei Post Office had only 500 sets of memorial stamps, all of which it sold to eager customers within half an hour of opening its doors
Excited stamp collectors lined up in front of the Taipei Post Office early yesterday morning to be among the first to acquire freshly printed 228 Memorial Hall Stamps issued by the Taiwan Post Co.
But enthusiasm soon turned into anger as police tried in vain to prevent unruly queuers from sneaking forward in the line to purchase a second set of stamps.
Because each branch office only has limited supplies of the stamps, some collecters had to visit more than one post office to try to acquire stamps.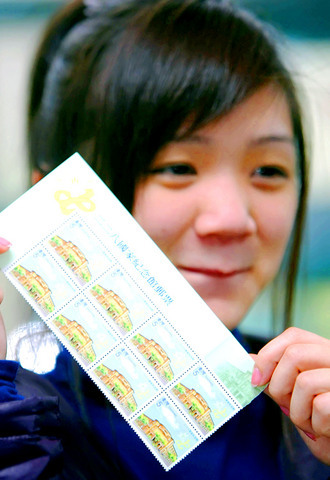 A woman shows off her sheet of newly issued 228 Memorial Hall Stamps at the Taipei Post Office yesterday.
PHOTO: CNA
Customers were only permitted to purchase two to four stamps at a time, but most collectors wanted to buy the entire set of 20 stamps.
"What is the purpose of collecting the stamps if you can only buy four of them?" one stamp collector asked. "It is not worth it!"
"The quality of the design is poor," another stamp collector complained. "It looks like it was done in a hurry."
Despite complaints and minor conflicts, the first batch of stamps bearing the name "Taiwan" has proven to be a popular commodity among enthusiasts.
The Taipei Post Office on Nanhai Road, for example, was given 500 sets to sell. All 500 sets were sold within half an hour after the post office opened at 8:30am.
"These Taiwan stamps were published immediately after Chunghwa Post changed its name to Taiwan Post," a young man said while on the way to have his postage envelope stamped with a 228 Memorial Hall seal.
"Since the Legislative Yuan has yet to amend the relevant regulation to legalize the name change, the company might have to change its name back. And if that is the case, these stamps could become rarities," he said.
The recently renamed post office announced earlier that it would issue 1 million stamps yesterday in remembrance of the 228 Incident.
The stamp features the new National 228 Memorial Hall, located on Nanhai Road, with a lily next to it.
To accommodate stamp collectors, Taiwan Post kept 51 post offices open yesterday, although it was a national holiday.
The company said more than 400,000 stamps were sold yesterday. It also said 300,000 stamps would be placed in its annual yearbook. More than 100,000 would be reserved for the post office's long-term subscribers. The remaining stamps will be available for purchase today.
Comments will be moderated. Keep comments relevant to the article. Remarks containing abusive and obscene language, personal attacks of any kind or promotion will be removed and the user banned. Final decision will be at the discretion of the Taipei Times.