Taiwan Quick Take
■ Crime
Wang's daughter summoned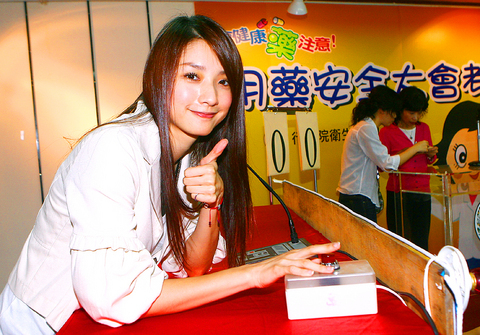 PHOTO: HU SHUN-HSIANG, TAIPEI TIMES
Taipei prosecutors and special agents from the Bureau of Investigation yesterday summoned The Chinese Bank vice general manager Wang Lin-ke (王令可), the daughter of Rebar Asia Pacific Group chairman Wang You-theng (王又曾), for questioning because they suspect her of helping her father steal NT$47.9 million from the bank. Special agents also interrogated the bank's Taiyuan Rd branch manager, Chen Wen-dung (陳文棟), for his alleged involvement in the case. Prosecutors said that Wang Lin-ke and Chen abetted Wang You-theng by illegally selling Rebar's debts to companies that had difficulty obtaining credit financing. These companies' applications for credit were approved, with no credit checks or endorsements needed, if they agreed to use half of the money from financing to buy Rebar's debts.
■ Politics
New Lu book hits shelves
Vice President Annette Lu (呂秀蓮) yesterday released a new book, The Global Taiwan, saying that the book was written to correct the erroneous notion that Taiwan is part of China, which she said had misled many people in Taiwan and the world. "I think it is a pity that people always get confused when asked about their national identity. Clarifying the confusion is important as it will contribute to the country's nation building," Lu said at her book launch press conference. Likening writing a book to giving a birth to a baby, Lu said that the book is like her 15th child. Lu started writing books at the age of 30. "The energy I spent on this book was much more than that I devoted to my previous works, as I always feel emotional when thinking of the nation's history," Lu said.
■ Society
Actress Beatrice Hsu dies
Beatrice Hsu (許瑋倫), a 28-year-old actress and pop idol, died at a Taichung hospital on Sunday, two days after sustaining a serious head injury in a car crash on the Sun Yat-sen Freeway. The accident occurred on Friday night, when Hsu's assistant, Lin Yi-wen (林怡妏), was at the wheel. For reasons that remain unclear, the southbound car hit a guardrail and was then hit from behind by a truck, Taichung County's Sanyi police department said. Lin suffered light injuries, but Hsu suffered serious head and chest wounds and fell into a coma. The pair were rushed to hospital in Taichung where Hsu died on Sunday evening, the hospital said.
■ Weather
EPA issues air quality alert
The Environmental Protection Administration (EPA) issued an alert yesterday about worsening air quality in the wake of pollutants accompanying recent cold fronts. The fronts have brought pollutants originating from southern China, EPA forecasters said. According to officials, air quality in northern Taiwan was at its worst in several months on Sunday. Southern Taiwan is also expected to be affected by worsening air quality over the next two days. Officials said this could create difficulties for people with allergies or respiratory problems, and urged anyone affected to avoid going outdoors or to wear a mask if they must go outside.
Comments will be moderated. Keep comments relevant to the article. Remarks containing abusive and obscene language, personal attacks of any kind or promotion will be removed and the user banned. Final decision will be at the discretion of the Taipei Times.