Elections 2006: People First Party chairman announces an end to his career
DON'T LEAVE Teary PFP supporters gathered at Soong's campaign office while others chanted slogans, urging him to run for president in 2008
Having enjoyed a record-high 4.7 million votes in the 1994 Taiwan Provincial Governor election, People First Party (PFP) Chairman James Soong (宋楚瑜) yesterday announced an end to his decades-long political career after failing in his Taipei mayoral bid, garnering just 53,281 votes, or 4.14 percent of the total ballots.
"I accept the [electoral] result with good cheer. I hereby announce that I am quitting Taiwan's political scene," said Soong.
Soong, who had taken leave from his PFP chairmanship to run as an independent candidate, made the remarks at a press conference at around 6pm before the counting was complete.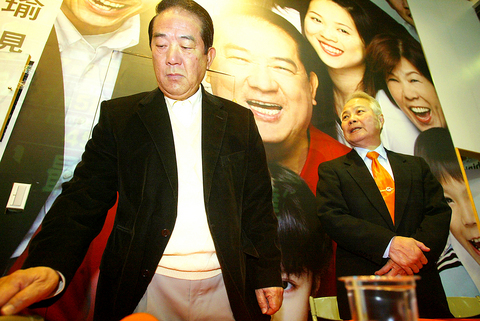 Independent Taipei mayoral candidate and People First Party (PFP) Chairman James Soong, left, thanks PFP Deputy Chairman Chang Chao-hsiung, right, for his support after Soong announced his decision to withdraw from politics at a press conference yesterday.
PHOTO: CNA
When Soong first declared his intention to run in the mayoral race two months ago, he had said that whether he won or lost, he would not be taking part in any more elections.
"I will accompany my wife Chen Wan-shui (陳萬水) happily and freely for the rest of our lives," Soong said, with a smile on his face at the press conference.
His supporters, however, were unwilling to see their leader go.
Watery-eyed PFP supporters gathered at Soong's campaign office while others chanted slogans, urging Soong to run in the 2008 presidential election.
PFP lawmakers appeared equally frustrated, with PFP caucus whip Cheng Chin-ling (鄭金玲) saying, "on behalf of the caucus, we are opposed to him [Soong] quitting politics."
The pan-green camp offered their sympathy in response to Soong's announcement.
While calling on pan-green supporters to `"send warmth to Soong," Democratic Progressive Party Legislator Kuan Bi-ling (管碧玲) said she thought "Soong had fallen victim to factional politics."
She said that the "save-dump" tactics employed by the pan-blue camp had resulted in Soong's poor electoral support.
Comments will be moderated. Keep comments relevant to the article. Remarks containing abusive and obscene language, personal attacks of any kind or promotion will be removed and the user banned. Final decision will be at the discretion of the Taipei Times.