Taiwan Quick Take
■ Politics
Arms bill fails again
The legislature's Procedure Committee yesterday placed the government budget at the top of the next legislative agenda, while voting down the arms procurement bill for the 41st time as well as the confirmation of Control Yuan members. The Procedure Committee voted 17 to 12 in favor of a proposal filed by People First Party (PFP) Legislator Lin Te-fu (林德福) not to table the long-stalled arms procurement plan, consideration of the president's nomination of Control Yuan members, draft amendments to the Referendum Law (公民投票法) and amendments to the Organic Law of the Ministry of Justice Organization (法務部組織法), which would establish a new department dedicated to the investigation of corruption and related crimes.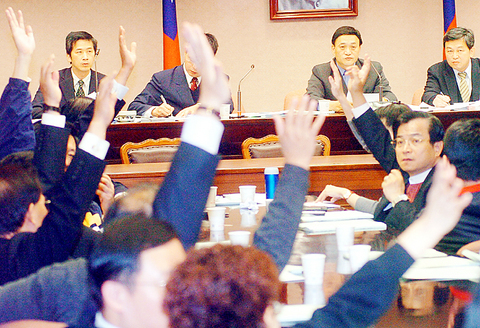 PHOTO: CHEN TSE MING
■ Politics
Lawmaker sues colleagues
A People First Party (PFP) lawmaker yesterday filed a defamation lawsuit against four Democratic Progressive Party (DPP) members for allegedly accusing her of revealing a videotape disclosing "travel subsidies" issued by the campaign of DPP Taipei County commissioner candidate Luo Wen-chia (羅文嘉). Lee Yung-ping (李永萍) said yesterday that she felt regret that the DPP lawmakers denounced her for disclosing the video. Despite calling her a liar, Lee said that none of her accusers had offered an apology for their remarks. Lee was referring to Luo, DPP legislators Hsu Kuo-yung (徐國勇), Lee Wen-chung (李文忠) and William Lai (賴清德). In response, Lee Wen-chung yesterday said that he respected Lee Yung-ping's right to file a lawsuit but siad that Luo and Luo's campaign office were not involved with the "subsidies."
■ Society
Taipei plans big New Year
Taipei City Government has expanded the scope of this year's New Year celebrations, which in addition to the annual New Year Party concert -- this year featuring A-mei (阿妹) and Stefanie Sun (孫燕姿) -- will include a DJ show, a pop music contest, a 3-on-3 basketball game, and Aboriginal and Hakka food and cultural events. To coincide with the party, all the city's MRT lines will operate around the clock on Dec. 31. Bus services around the Xinyi shopping district and city hall areas will also run 24 hours on that day. Free maps with details of the celebrations can be obtained from the city government's service center, travel centers, Taipei Zoo, the municipal library, Taipei Fine Art Museum and 15 MRT stations from Dec. 16. For more information, call (02) 2720-8889 ext. 2028.
■ Society
Pro-Taiwan group pushes DPP
A pro-Taiwan independence group, the 908 Taiwan Republic Campaign, released a statement urging the governing Democratic Progressive Party (DPP) to stop its internal squabbling and fight to stop China's power from further penetrating Taiwan. Peter Wang (王獻極), leader of the group, said that although it seemed that the government has given up in its bid to draw up a new constitution for Taiwan, the group would continue promoting the constitutional campaign. Chuang Po-lin (莊柏林), supervisor of the group and a Presidential Office policy adviser, said that they will follow the example set by the Tzu-chi Foundation (慈濟功德會) in their bid to establish a Taiwanese Republic.
■ Cultural affairs
Characters to be discussed
Academics from China and Taiwan will gather in Taipei next April to discuss ways to promote "exchanges" of the simplified and traditional Chinese characters that are used on each side of the Taiwan Strait. Liao Hsien-hao (廖咸浩), director of Taipei City's Department of Cultural Affairs, said yesterday that some Chinese academics are calling for "restoring" the use of traditional characters in China since the historical background for adopting the simplified characters has changed. In the face of changes in information technology, he said, both sides should take a practical and scientific attitude toward Chinese characters.
■ Transportation
Lawmaker attacks KRTC
The cave-ins at Kaohsiung's rapid transit construction sites were partly the result of the Kaohsiung Rapid Transit Corp (KRTC) ignoring its own report on a number of missteps, Independent Legislator Chiu Yi (邱毅) said yesterday. Chiu quoted a Taiwan Construction Research Institute (TCRI) report from May as saying that underground hydraulic data was not taken into account by route designers and the quality of construc-tion was questionable. The report, commissioned by the KRTC, said the KRTC had not properly evaluated subsidence incidents, had not done a good job of monitoring shield machines and had not been able to prevent water leakage. These "defects" seem to have originated from a poor building plan. Chiu said the report had recommended forming an ad hoc group of experts to monitor the construction process but the Democratic Progressive Party opposed the idea. He said the KRTC has ignored the TCRI's safety alerts and refused to stop construction for a comprehensive safety check-up.
Comments will be moderated. Keep comments relevant to the article. Remarks containing abusive and obscene language, personal attacks of any kind or promotion will be removed and the user banned. Final decision will be at the discretion of the Taipei Times.