Chen expects relations with Vatican to improve
BILATERAL TIES The president said Taiwan and the Vatican are not only diplomatic allies, but also share the core values of peace, democracy and freedom
Relations between the Vatican and Taiwan will be further strengthened because of long-term efforts by Catholics that have profoundly benefited the people of Taiwan, Cardinal Jean-Louis Tauran said yesterday.
Tauran made the remarks after he was decorated with the Order of the Brilliant Star with Special Grand Cordon, one of the country's top honors, by President Chen Shui-bian (陳水扁) as recognition for his contribution to diplomatic ties between Taiwan and the Holy See.
Tauran served as the Vatican's foreign minister from 1990 to 2003. He currently serves as archivist and librarian of the Roman Catholic Church.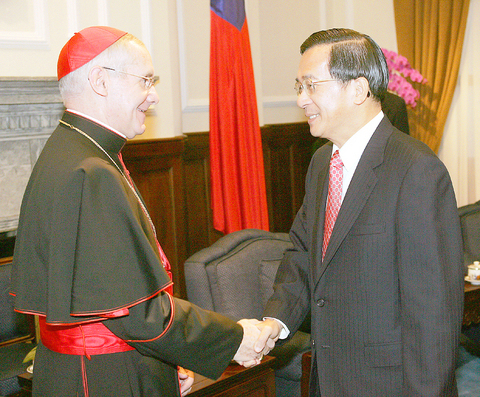 President Chen Shui-bian, right, welcomes Cardinal Jean-Louis Tauran, a former Vatican foreign minister, at the Presidential Office in Taipei yesterday. Chen conferred the Order of the Brilliant Star with Special Grand Cordon on Tauran shortly afterward.
PHOTO: JAMESON WU, AP
After expressing his appreciation for the award, Tauran said that the vigorous development of the church in the free society of Taiwan would further impress the Vatican.
"We've been glad to see the vigorous development of Catholicism here," Tauran said, promising to deepen collaboration between the Vatican and Taiwan.
He said that all countries should be generous and kind to religious institutions, which can help not only to promote peace and harmony, but also make people more attentive to others.
Chen said that Tauran has also praised Taiwan for its long-term aid and assistance to countries in Africa and Latin America -- efforts that have been recognized by the Holy See as actions reflecting the Catholic spirit, Chen said.
Tauran has stressed many times that Taiwan is a bridge between Chinese church communities and the Vatican, the president said.
This gives Catholic churches in China the assurance that the Vatican has not abandoned them, he added.
Addressing a packed audience at Fu Jen Catholic University on Tuesday, Tauran had said that the Vatican has never severed diplomatic relations with China, even after the communists seized power in 1949.
Chen yesterday told Tauran that his administration attaches great importance to the issue of foreign missionaries' permanent residence rights in Taiwan. So far, he said, the government has granted permanent residence to 233 foreign missionaries who have resided in Taiwan for more than 20 years.
The president added that he would like to have Dec. 25 (Christmas Day) declared a national holiday.
"I hope the partnership will last forever. After all, Taiwan shares the common values of democracy, freedom and peace with the Holy See," Chen said.
"I believe that such values will continue to thrive as bilateral ties between the two countries flourish," he said.
With reference to US President George W. Bush's praise for the nation's democratic achievements, which Bush called a model for democratization in China, Chen said that he still feels sorry for religious people in China, who have suffered from a lack of religious freedom.
Tauran arrived in Taipei on Monday for a week-long visit. He last came to the country on behalf of Pope John Paul II to offer condolences in the wake of the disastrous earthquake that hit Taiwan Sept. 21, 1999.
Comments will be moderated. Keep comments relevant to the article. Remarks containing abusive and obscene language, personal attacks of any kind or promotion will be removed and the user banned. Final decision will be at the discretion of the Taipei Times.