Tens of thousands of Christians gather to pray for peace
DIVINE INFLUENCE Some 50,000 people congregated outside the Presidential Office to pray for an end to ethnic divisions and for the health of the nation
About 50,000 Christians from around the country filled the Ketagelan Boulevard yesterday to pray, sing songs and perform Aboriginal dances, joining the annual Global Day of Prayer, which takes place on Pentecost Sunday in praying for the "healing of the nations and the glory of the Lord."
Gathered under the theme "Praying for Taiwan," Christians from various denominations shrugged off the rain, waved palms and flags in the air as they sang prayers with priests on center stage.
"This is the first time Christians in Taiwan walked out of churches and called on God to have mercy upon Taiwan and renew this nation through peace and reconciliation," said Xia Chong-jian (夏忠堅), executive director of the National Prayer Network and an organizer of the event. "It's also a chance for us to connect with other Christians from 160 participating countries this year."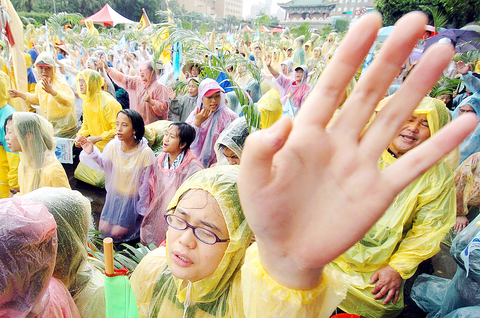 Thousands of Christians gather on Ketagelan Boulevard in front of the President Office yesterday in an event called ``The Global Day of Prayer'' to pray for the fate of the nation and the Taiwanese people.
PHOTO: GEORGE TSORNG, TAIPEI TIMES
Xia said that Ketagelan Boulevard has long been a gathering place for political demonstrations. With joyful songs and prayers, the Christian community this time brought peace to the boulevard, with the interests of all the Taiwanese people in mind.
Wearing yellow rain coats and waving palm branches -- used to welcome Jesus on his way to Jerusalem -- South African Arlene Hughes came to celebrate the event with about 30 people from Youth Without A Mission, an international missionary located in Miaoli City.
"I am very excited about this event. God loves the people of Taiwan and we are here to pray for this country," she said.
Besides prayers, the event also featured Aboriginal dances and about 1,000 people in white lined up to make the shape of a cross in front of the stage. The priests also led Aboriginal people from 12 tribes and representatives to circle around alter in while praying for political and ethnic harmony in Taiwan.
Maray Batu, a Bunan Aboriginal and a priest from Taoyuan County with about 300 tribespeople, expressed his concern for the country.
"There have been too many disputes in Taiwan, and they cause a great deal of anxiety among people in society. With all Christians gathered here today, I think we should pray for a better economy, and better educational and political institutions in Taiwan," Maray said.
The Global Day of Prayer originated in South Africa four years ago as a grass-roots movement called "Transformation Africa." Its followers later spread across the globe, praying for an outpouring of God's love and salvation around the world.
Comments will be moderated. Keep comments relevant to the article. Remarks containing abusive and obscene language, personal attacks of any kind or promotion will be removed and the user banned. Final decision will be at the discretion of the Taipei Times.