Su blasts Lien's `Journey of Failure'
Democratic Progressive Party (DPP) Chairman Su Tseng-chang (蘇貞昌) yesterday criticized Chinese Nationalist Party (KMT) Chairman Lien Chan's (連戰) trip as a "Journey of Failure," since Lien failed to highlight Taiwan's democracy and the existence of the Republic of China (ROC), and did not convey Taiwan's opposition to the "Anti-Secession" Law and China's military threats.
"We think that Lien's visit to China did not achieve any favorable aims for Taiwan and is not helpful to the development of the cross-strait relationship," Su said.
Su yesterday issued a press release outlining the DPP's stance on Lien's trip. Lien returned from China yesterday evening.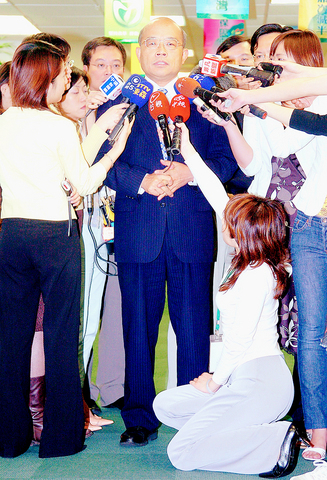 DPP Chairman Su Tseng-chang, center, criticizes Chinese KMT Chairman Lien Chan's trip as a ``Journey of Failure'' at a press conference at DPP party headquarters yesterday.
PHOTO: SONG CHIH-HSIUNG, TAIPEI TIMES
Su said that Lien's visit to China was not the "Journey of Peace" that the KMT claimed; on the contrary, Su said, judging from the outcome the trip was clearly a "Journey of Failure."
Su said that Lien failed to highlight the value of Taiwan's democracy, failing to represent the existence of the Republic of China (ROC) and to express Taiwanese people's antipathy towards "Anti-Secession" Law and China's missiles threats.
"Basically, Lien's trip was a fiasco," Su said. "And the communique jointly announced by Lien and Chinese President Hu Jintao (胡錦濤) is an anti-Taiwan communique that is slanted toward China, which is a political wrong that the people of Taiwan will never accept."
If they read the communique closely, people will find that the Chinese Communist Party (CCP) did not make any concessions, Su said. However, the KMT had actively yielded much to the CCP.
"In fact, the KMT gave a big hand to China by helping to remove the pressure that the `Anti-Secession' Law caused. In the meantime it becomes a tool that China is using to divide Taiwan," Su said.
Su added that Lien's speech at Peking University belittled Taiwan's democratic achievements and that the speech was aimed at catering to the Chinese authorities.
"Lien did not take the chance to convey Taiwan's experiences and the value of democracy. On the contrary, he criticized Taiwan's democracy as a land of autocracy, which we feel deeply sorry for," Su said.
Lien even echoed China's nationalist rhetoric, saying that he supported "allying with the CCP to strike Taiwan," which fundamentally ignored the Taiwanese people's right to choose their future freely, Su said.
"Moreover, the five-point consensus reached during the Lien-Hu meeting was established on the assumption that Taiwan's sovereignty can be conceded," Su said. According to Lien and Hu's consensus, Taiwan has to obtain Beijing's consent afterward if it wants to join international organizations, he added.
The DPP also warned that the two pandas that China is going to give to Taiwan are tools to degrade Taiwan's sovereignty. What China should do is to destroy the numerous missiles targeted at Taiwan and repeal the "Anti-Secession" Law, Su said.
Meanwhile, when asked for her opinion about China's pandas, Vice President Annette Lu (呂秀蓮) said that she would welcome the Chinese pandas if they were presents celebrating the establishment of diplomatic relations between the Republic of China (ROC) and the People's Republic of China (PRC).
Comments will be moderated. Keep comments relevant to the article. Remarks containing abusive and obscene language, personal attacks of any kind or promotion will be removed and the user banned. Final decision will be at the discretion of the Taipei Times.