Emotions run high amid investigation of protests
Two pan-green lawmakers cried foul yesterday as prosecutors launched an investigation into three lawmakers and a talk show host to see whether they violated the Assembly and Parade Law (集會遊行法) and incited violence during Tuesday's airport protest.
Taiwan Solidarity Union (TSU) Legislator Lo Chih-ming (羅志明) announced his resignation as caucus whip until he is cleared of the charge, while Democratic Progressive Party (DPP) Legislator Wang Shih-chien (王世堅) threatened to withdraw but later changed his mind.
Police said that they would question the three legislators and talk-show host, who allegedly climbed onto a check-in counter to address the crowd of Chinese Nationalist Party (KMT) Chairman Lien Chan (連戰) opponents. Police want to know whether their speeches incited violence.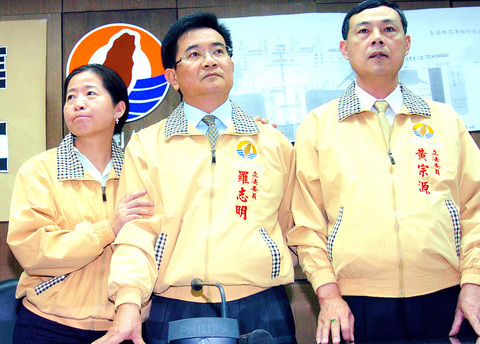 Taiwan Solidarity Union (TSU) Legislator Lo Chih-ming, center, tells a press conference yesterday that he will quit as party caucus whip pending the outcome of an investigation into his involvement in the airport clashes. Lo was accompanied by TSU legislators Yin Ling-ying, left, and Huang Chung-yung, right.
PHOTO: CHANG CHIA-MING, TAIPEI TIMES
Lo said that it was unfair to investigate only lawmakers from the pan-green camp,
"I don't have any problem with prosecutors' conducting an investigation into my actions, but it is only fair for them to do the same to New Party members and those violent gangsters," he said.
"I highly suspect that it has a lot to do with our publicly criticizing the DPP government and calling on the public to attend the protest," he said.
If his act deserves an investigation, Lo said that those who were staging a protest at the CKS International Airport when TSU Chairman Shu Chin-chiang (蘇進強) returned from his trip to Japan should receive the same treatment.
"There simply cannot be a double standard," he said.
Lo also criticized President Chen Shui-bian's (陳水扁) administration for "criminalizing legitimate demonstrations."
"If what we do is inciting violence, then President Chen and Premier Frank Hsieh (謝長廷), who led their supporters to take to the streets during the martial-law era must be brought to justice as well," he said.
TSU Legislator Yin Ling-ying said that she is proud of what Lo did and that she and other TSU are willing to be investigated.
Painting the prosecutors' move as another "White Terror," TSU Legislator Ho Min-hao (何敏豪) said that the investigation is aimed at placating the pan-blue camp.
Wang said that although he welcomes any investigation into his conduct, he said that it is his given right to stage a protest against Lien's trip to China.
"If I, as a Taiwanese, had decided to keep silent, stay home and do nothing about it, I would rather have died," he said.
Apparently upset by criticism voiced by fellow lawmakers that his protest was to gain media exposure and aimed at grandstanding, Wang announced that he would immediately withdraw from all operations of his caucus.
Wang, however, eventually changed his mind after DPP caucus whip Lai Ching-te (賴清德) telephoned him to talk him out of the idea.
Comments will be moderated. Keep comments relevant to the article. Remarks containing abusive and obscene language, personal attacks of any kind or promotion will be removed and the user banned. Final decision will be at the discretion of the Taipei Times.