Nobel prizewinner Yang engaged
`YOUNG IN SPIRIT' The US-trained physicist had his plans to marry 'outed' by a publisher friend, and his choice of a much younger woman is ruffling some feathers
The 82-year-old Nobel Prize Winner Yang Chen-ning's (楊振寧) plan to marry a 28-year-old Chinese woman not only made headlines in China, but has also caused a stir in Taipei. \n"This is a common dream shared by every man of 82," legislator-elect Li Ao (李敖) was quoted by a local newspaper as saying, while commenting on Yang's marriage plans. \n"A man who dares to marry a woman 54 years his junior requires competence in all aspects and meanings of the word," said Li, whose wife is 29 years his junior. \nYang, a US physicist, was born in China and educated in the US. He shared the Nobel Prize for physics with another Chinese-born US scientist Lee Tsung-dao (李政道) in 1957 and has been a member of Academia Sinica since 1958. Yang's wife died in October last year. \nYang's marriage plans with Wong Fan (翁帆), a postgraduate student in Guangdong, were leaked via an e-mail Yang sent last week to Chiang Tsai-chien (江才健), a popular science writer and the author of Yang's biography. \nChiang, as publisher of the Taipei-based magazine "Review of Knowledge" (知識通訊評論), decided to release the tip online. \nAccording to the e-mail, Wong was born in Guangdong and Yang and his wife first met her in 1995 when Yang attended an international seminar in a Guangdong city. \nWong, at that time a first-year university student in English, served as Yang's guide during the conference. "Both my wife and I liked her at first glance," said Yang. \nAfter the conference, they kept in contact occasionally, said the e-mail, and after graduating from university, Wong got married but divorced few years later. \nThey resumed contact in February when Wong sent Yang a letter. \n"This is God's last present that allows my old soul to return to youth," Yang said in the e-mail. \n"I know I am old in terms of age, but I still keep young spiritually. I also know this is partially why Wong Fang finds me attractive," Yang told Chiang in the e-mail. \nYang and Wong were engaged Nov. 5 this year and plan to get married in January. \n"Yang knows very well that his upcoming marriage may cause a stir, but he is ready to face it," Chiang said yesterday. \nThough the local newspapers' approach toward Yang's upcoming marriage has been quite liberal, many have called in to TV talk shows to express their ill feelings. \n"The local newspapers' easygoing attitude toward Yang's marriage plans just showcases the fact that male chauvinism still prevails in this society," one woman on a show said. \n"I want to know whether the media would be as relaxed if a 82-year-old woman were to marry a 28-year-old man," the woman said. \nJosephine Ho (何春蕤), an outspoken activist on gender issues, urged people to shut their mouths regarding other people's choices in marriage. \n"If we all admit that marriage is a matter of individual freedom, then we should all shut our mouths," said Ho, who is also a professor of National Central University. \n"Don't forget this is a matter co-decided by two adults. People tend to question other people's ability to choose," Ho said. \nAccording to Ho, this marriage made news simply because the protagonist is the well-known Nobel Prize winner. \n"Some people tend to question an 82-year-old man's sexual ability. Marriage is not just about sex," Ho said. \nWhen asked how society would react to a marriage of a 82-year-old woman with a 28-year-old man, Ho said it was not a question of sex, but a question of freedom. \n"What do we have to say about people's freedom of choice?" Ho said.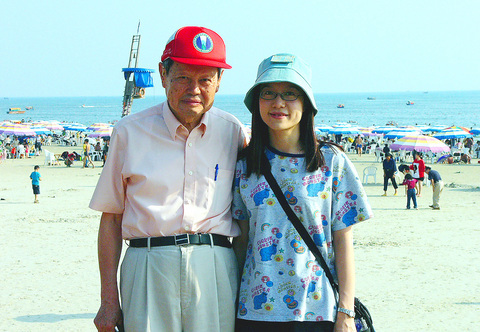 1957 Nobel Prize for physics winner Yang Chen-ning and his Chinese fiancee Wong Fang, this year in China.
PHOTO: COURTESY OF REVIEW OF KNOWLEDGE
Comments will be moderated. Keep comments relevant to the article. Remarks containing abusive and obscene language, personal attacks of any kind or promotion will be removed and the user banned. Final decision will be at the discretion of the Taipei Times.