DPP promotes female candidates
The Democratic Progressive Party (DPP) yesterday held a campaign rally to introduce its female nominees for legislator-at-large positions. \nChanting the slogan "women [candidates] account for half of the nominations and we hope the DPP will win over 50 percent of seats in the legislature," five of the party's female nominees for legislator-at-large stood together and declared their resolution to join the next legislature. \nThe five pledged to create a new voice and viewpoint in the legislature, long seen as a being dominated by men. \n"The DPP is the party that cares most about women's political participation in Taiwan," DPP Secretary-General Chang Chun-hsiung (張俊雄) said yesterday at the rally. \n"Our impressive slate of legislator-at-large nominees meets the DPP's promise to women and shows our resolve to maintain a democratic and progressive outlook," Chang said. \nAlthough the DPP is only 18 years old, it is the political party that shows most respect for women, Chang said. \nA DPP party clause requires at least one-fourth of its candidates in all local elections be filled by women, he added. \nThe party also enabled Taiwan to have its first woman vice president and a woman vice premier, he said. \n"Hopefully, our excellent female candidates will win more recognition and support from women voters and help the pan-green camp win a majority in the Legislative Yuan," Chang said. \nIn addition to the former chairwoman of the Mainland Affairs Council Tsai Ing-wen (蔡英文), aboriginal representative Chen Hsiu-hui (陳秀惠), Hakka representative Chang Ching-hui (張慶惠), women's rights activist Huang Hsu-ying (黃淑英), medical expert Lu Tzu-yen (盧孳豔) and representative of women lawyers Yang Feng-wan (楊芳婉) were also on the party's list of nominees. \nTsai declined to attend yesterday's rally as she did not want to take attention away from the other nominees, according Ho Chia-ling (何佳玲), director of the DPP's department of Women's Affairs Development. \nMeanwhile, Chang responded to reports that the Chinese Nationalist Party (KMT) had nominated Olympic taekwondo silver medalist Huang Chih-hsiung (黃志雄) as a legislator-at-large. The DPP did not want to bring national athletes into the political arena, he said. \n"We think that the Olympic heroes are great national assets belonging to all the people of Taiwan, not a certain party. And we don't want to taint them with political color," Chang said. \n"I think to not nominate these athletes is to show real respect for them," he said. \nChang also denied that the DPP has been in contact with Chen Shih-hsin (陳詩欣) and Chu Mu-yen (朱木炎), gold medalists in taekwondo at the Athens Olympics, to persuade them to join the DPP. \nThe DPP will help them to achieve success but will not take advantage of their fame, he said.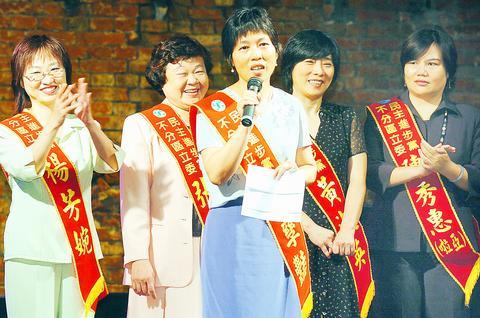 Lu Tzu-yen, front, speaks at a campaign rally at the Red House Theater in Taipei, where the Democratic Progressive Party introduced its female nominees for legislator-at-large yesterday. Lu is joined on stage by other nominees: Yang Feng-wan, left, Chang Ching-hui, second left and Huang Hsu-ying, right.
PHOTO: GEORGE TSORNG, TAIPEI TIMES
Comments will be moderated. Keep comments relevant to the article. Remarks containing abusive and obscene language, personal attacks of any kind or promotion will be removed and the user banned. Final decision will be at the discretion of the Taipei Times.