Chinese transsexuals gaining acceptance
`WOMAN WITH STORIES' Transsexuals such as Chen Lili, who hoped to compete in the Chinese Miss Universe contest, are making gains against social disapproval
Looking nearly every inch the woman she has set out to become, Chen Lili, the Chinese transsexual recently barred from the 2004 Miss Universe beauty contest because she was born a man, is a whirlwind of enigmatic contradictions.
"I'm a woman with stories," coos the 24-year-old singer and performer from China's southwestern Sichuan Province, who would have been the first transgender woman to vie for the beauty title.
Dressed in high heels, a black mini-skirt and a leopard-spotted halter top that outlines a healthy bust augmented now by three surgeries, Chen often giggles at some of the trials of trying to become a woman, her emotions running from unspoken heartbreak to self-conscious laughter.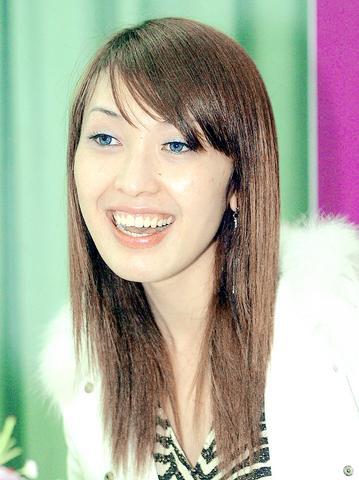 Chen Lili, a 24-year-old transsexual from Yilong county in Sichuan province, smiles during an interview on Feb. 28 at a hospital in Nanjing, Jiangsu province. Chen was barred from the 2004 Miss Universe beauty contest because she was born a man.
PHOTO: AFP
"It was quite troublesome without breasts when I worked as a model or when I went swimming," Chen recalled during an interview at Jiangsu Sirrim clinic in neighboring Nanjing city, where she is undergoing a variety of plastic surgery procedures to make her face look more feminine.
"I used to stuff sanitary napkins in my swimwear, but when I got wet my breasts would be gone."
The 173cm Chen made headlines in local papers last month when she won partial approval to take part in a series of beauty contests to become China's Miss Universe. Organizers later rescinded.
"I've got other chances," said Chen, at times coquettish or self-denigrating. "I don't think those who were born women are better than me."
Transsexuals have ceased to be taboo in urban China in recent years, and a total of about 500 Chinese men have so far had their sex changed surgically, according to statistics given by the country's state media.
Chen, who underwent a sex change in November, first began attracting local attention as a hormone-taking transvestite singer in China's southern Guangdong Province more than eight years ago.
Desirous of stardom and relatively media savvy, Chen is reluctant to be drawn out on what she hints is a painful and bitter past -- much about the leggy model whose boyhood name was Yongjun, or "Brave Soldier," remains as remote as the mountains of the hometown she ran away from at the age of 13.
Chen liked to sing and dress up as a girl when she was small, but her parents did not allow it.
Her mother died when she was 10 years old.
She has never returned home and rarely talks to her father, who she said doesn't know of her complete transformation.
When she arrived in northern Hebei Province 11 years ago, Chen joined a performing troop and put her naturally high voice to good use.
Life, according to Chen, was all right and certain people helped and were good to her.
She had a boyfriend in southwestern Chongqing city for nearly four years, an experience which she described as "a piece of temporary happiness," until the male model, who kept cheating her out of her money, married another woman.
Marriage is not in her future plans, she said, and "besides, nobody wants me."
Other signs of past unhappiness emerge -- a cluster of scars on her left hand, which she refuses to talk about, suspiciously resemble cigarette burns.
At times death also seems have been close by.
"In 10 years the most important thing I want to achieve is to keep myself alive, to keep my life," she said, before laughing and claiming to be joking.
The thousands of dollars she has spent on her physical transformation have come from singing.
Despite offers, she has never prostituted herself, she said.
Chen and the Jiangsu Sirrim clinic have also come to an agreement where she promises to do all media interviews at the clinic in exchange for free surgical procedures.
So far, plastic surgeon Lu Min has shaved Chen's cheekbones, narrowed her nose and lowered the ridge of Chen's brow -- a rather gruesome procedure where part of the scalp has to be cut and pulled back so the bone can be filed down.
"She's got very high standards and she doesn't want any imperfections," Lu said.
"She has entirely accepted her role of the woman that she is playing now and will be playing in the future."
The doctor who performed Chen's sex change, Wang Xirun, said that Chen was one of those who was irrevocably convinced of the need to become a woman.
"Usually our psychiatrists try to persuade people to give up the idea of going through with transsexual surgery," Wang said by telephone from the Shandong Qingdao Maternity and Child Care Hospital.
"We didn't try to dissuade Lili at all. She was determined and well prepared for the surgery psychologically," he said.
Despite the pain of the procedure Chen claimed it had all been worth it.
"All the bitter feelings that I went through were for one thing only and that is to be a woman," she said, fiddling with a makeup set.
"I hungered to be a woman, no matter whether ugly or short," she said.
"Every knife used in during the surgeries is paving the way for my future happiness."
Comments will be moderated. Keep comments relevant to the article. Remarks containing abusive and obscene language, personal attacks of any kind or promotion will be removed and the user banned. Final decision will be at the discretion of the Taipei Times.