VCD reveals public's discontent
A recent VCD lampooning pan-blue officials was a reflection of the public's distaste for the legislative abuse of freedom of speech, a lawmaker has said.
"The brisk sales of Special Report, which makes fun of politicians, including a number of lawmakers, is a warning to legislators to be more responsible and cautious when commenting under the protection of legislative immunity," said Democratic Progressive Party (DPP) Legislator Cheng Kuo-chung (鄭國忠).
On Friday, People First Party (PFP) Legislator Chiu Yi (邱毅) said that the people behind the controversial VCD -- actress Chiang Hsia (江霞), cartoonist Yu-fu (漁夫), a professor surnamed Hsieh at Soochow University and political commentator Wu Chin-fa (吳錦發) made the film to boost the DPP's election campaign.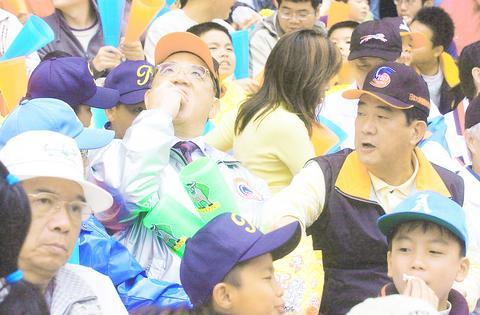 KMT Chairman Lien Chan, left, and his PFP counterpart James Soong, right, eat popcorn as they watch the friendship match between the Sinon Bulls and Japan's Daiei Hawks at the Tienmu baseball stadium yesterday.
PHOTO: CNA
Chiu claimed that the four DPP supporters were driven to shoot the political comedy out of a desire to keep the pan greens in office.
Chiu said he possessed evidence that proved the four plotted to attack pan-blue parties to help the DPP win next year's presidential election.
The lawmaker, however, did not present his evidence.
Cheng said, "Some lawmakers obviously go beyond their legislative immunity when they make accusations without proof in an effort to smear other people's reputation. This has caused the Legislative Yuan to be perceived by the public as a source of social chaos."
Acknowledging that he watched the VCD, Cheng said that there was nothing illegal about its content.
"I believe that people watch the VCD not only out of curiosity, but out of a feeling that the alternative film reflects their view on certain politicians. They realize that they would never get a chance to see similar interpretations in the local media because of the abnormality of domestic politics and the overstated press freedom upheld by media workers," Cheng said.
The team behind Special Report lampooned the pan-blues in a number of ways, including parodying the numerous call-in programs and news-commentary shows on television, said Cheng, who hosts a radio show in Tainan.
"Its a bizarre thing when pan-blue politicians feel they have to censure the performers when they themselves attack their political rivals on TV shows with no moral hesitation or legal restrictions," Cheng said.
Taiwan Solidarity Union (TSU) whip Lo Chih-ming (羅志明), a frequent guest on call-in shows, agreed with Cheng, adding that the political bias of hosts made a mockery of TV debate.
"TSU members rarely participate in news programs hosted by Sisy Chen (陳文茜) or Clara Chou (周玉蔻) because we have noticed that these two people clearly show their partiality to topics against President Chen Shui-bian (陳水扁) and former president Lee Teng-hui (李登輝)," Lo said.
Lo added that because the topic was biased, it was therefore no surprise to see the hosts siding with pan-blue guests.
Lo also said that pan-blue lawmakers held double standards when it came to commenting on their political rivals and party colleagues.
"The PFP's policy research center director Chang Hsien-yao (張顯耀), for instance, always goes on the attack when he knows he can't win a debate," Lo said. "He says he will sue other guests or demands an instant apology from people arguing against him or his party without tangible evidence."
The TSU whip said that it was ironic that Chang's colleague Chiu was now the one making accusations without concrete evidence.
Lo also challenged his independent colleague Sisy Chen's use of legislative privileges on her TV show.
"Chen capitalizes on her legislative power to collect confidential information and materials only offered to lawmakers and brings them on to her show," he said.
Lo said that it was regrettable that she abandoned her legislative duty to supervise administrative officials at the Legislative Yuan and instead improperly took on a commercial TV program.
Cheng Cheng-iok (鄭正煜), chief executive of the Southern Taiwan Society (南社), said that the media had failed to fulfill their duty to distinguish right from wrong and truth from falsehood since the DPP won the 2000 presidential election.
According to Cheng Cheng-iok, many in the media were far from impartial.
"Reporters have come in line with pro-unification politicians and have ignored the fact that these people are still trying to denigrate Taiwan on behalf of China.
"Consequently, they have wide coverage of opposition legislators Diane Lee (李慶安) and Hung Hsiu-chu's (洪秀柱) challenge against the education ministry's proposed addition of Taiwanese history in senior high school curriculums, but they had nothing with regard to a previous statement issued by various civil groups emphasizing the importance of reinforcing the education of local awareness," Cheng Cheng-iok said.
Comments will be moderated. Keep comments relevant to the article. Remarks containing abusive and obscene language, personal attacks of any kind or promotion will be removed and the user banned. Final decision will be at the discretion of the Taipei Times.