Porn star out to prove she's not just a pretty face
IN THE SPOTLIGHT After a string of public appearances that won her massive media coverage, Madoka Ozawa is out to make it big in Taiwan
Japanese porn-star turned model Madoka Ozawa (小澤圓) has caused a media storm in Taiwan with her glamorous smile and beautiful face. Engaging in a series of entertainment shows and public functions, Ozawa has embarked on a brand new journey to cast off her porn-star past and strive to become a multi-talented entertainer.
Arriving in Taiwan on Feb. 26 for a third whirlwind visit, Ozawa has received overwhelming public adulation and huge media coverage everywhere she has gone. She has been offered a number of chances to star in TV dramas, act on the big screen and release a pop album.
Ozawa's sudden rise can be attributed to her former role as a porn star. But with the help of her canny agent, the former porn star is set to bid farewell to her past.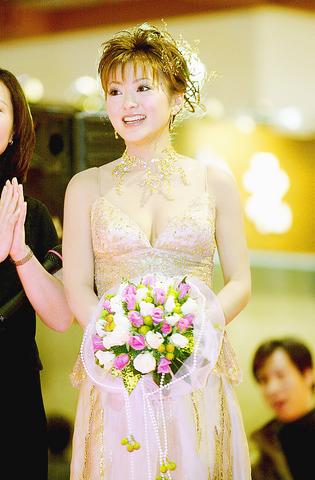 Japanese porn actress Madoka Ozawa works hard to revamp her public image on a visit to Taiwan yesterday.
PHOTO: GEORGE TSORNG, TAIPEI TIMES
Shih Yao-ju (時珧如), general manager of Top Link International, Ozawa's show-business agent in Taiwan, said yesterday, "The reason we chose Ozawa to turn her into a performer of many talents is because she characterizes the special attributes of innocence, sweetness and beauty that make her a perfect choice for an idol."
"Furthermore, we want someone from abroad, someone who is a new face to Taiwanese audiences. And it is evident that everybody likes Ozawa," Shih said.
"She stopped making porn films in Japan a while ago, and we are very committed to this process of transformation for her," Shih said.
Madoka Ozawa, a popular Japanese adult movie actress, strikes a sexy pose during an automoblie exhibition, held in Taipei on Dec. 28 last year.
FILE PHOTO: TAIPEI TIMES
Ozawa first seized the media spotlight at a car exhibition show last December when she appeared in sexy bikinis and created a stir among Taiwanese male viewers.
Riding on the back of her tremendous popularity, Ozawa later went to a military base on Kinmen Island to entertain the troops, marking the first time an adult-film actress was invited to entertain Taiwan military troops.
During Ozawa's stay on Kinmen, she received a welcoming reception from Magistrate Lee Chu-feng (李炷烽) who said the former porn star's arrival could help boost tourism on Kinmen.
Lee invited Ozawa to take part in promotion for the renowned Kaoliang Liquor (高梁酒). She also modeled for a wedding dress show and publicly sought a husband in Taiwan.
Commenting on the phenomenon that a former porn star from Japan could create such huge buzz among Taiwanese audiences and whether there is a change in social values about sex, advisor to the Gender Sexuality Rights Association and professor at the National Central University Josephine Ho (何春蕤) said there is no need to use different standards in judging an adult video star.
Ho said it reflected that the general public in Taiwan is mature-minded and non-discriminatory toward people in different walks of life.
"Conservatives such as politicians or middle-aged women who discriminate against Ozawa are too narrow-minded," Ho said.
"Adult film is a different form of art, equal to the art form presented in the films at the Cannes Film Festival and other award-winning films," said Ho.
The feminist Ho said, "I see her new trials in a series of public activities in Taiwan as a positive development."
"It is absolutely right to teach the public to know that everybody has the dignity to participate in any social activity," Ho said.
Ho said sex workers cannot be discriminated against because of what they do.
"During the Sino-Japanese war, a number of anti-Japanese war rallies were led by prostitutes. It was because, among women, only sex workers dared to take to the streets to protests," Ho said.
Ho recognized Ozawa's contribution in entertaining the military troops in Kinmen.
"If she is willing to offer her contribution toward the public interest, why not?" Ho said.
Ozawa is considered the second Japanese AV [adult video] star known in Taiwan to embark on the transformation from the porn business to showbiz after Iijima Ai (飯島愛) who became a famous TV personality in Japan after quitting adult films.
Wang Hao-wei (王浩威), a renowned writer, social critic and psychiatrist, yesterday said that Ozawa's unprecedented popularity in Taiwan might be due to her distance from the audience.
"She is relatively less well-known in Taiwan, unlike other Japanese porn actress such as Asami Kanno [former porn actress] (楊思敏), who was in the spotlight more often [since she switched her performing career to Taiwan]," Wang said.
"Distance creates mystique for her, and that's why there is such a buzz among her male audiences," Wang said.
Wang said it is common for girls like Ozawa to be invited to entertain troops.
"During World War II, there were also many cover girls [of porn magazines] invited to entertain troops. Marilyn Monroe did it too," Wang said.
Wang said the huge amount of media coverage on Ozawa reflected that the attitudes of the general public in Taiwan are softening.
Madoka Ozawa's Taiwan agent said Ozawa is prepared to take part in a series of acting roles in TV dramas and music performances, mostly of the pop variety ,in Taiwan.
Ozawa will stay in Taiwan until March 16, before returning to shoot her photography album in April, said the agent.
Comments will be moderated. Keep comments relevant to the article. Remarks containing abusive and obscene language, personal attacks of any kind or promotion will be removed and the user banned. Final decision will be at the discretion of the Taipei Times.