Hsieh Su-wei ousts No. 1 at Wimbledon to advance
Although dubbed a "giant killer" who beat world No. 1 Simona Halep of Romania at Wimbledon on Saturday, Taiwan's Hsieh Su-wei (謝淑薇) said that she was simply enjoying the game.
The 32-year-old Kaohsiung native, who is 48th in the world rankings, won the match in an uphill battle as the top-seeded Halep led 5-2 in the final set at one point.
However, Hsieh held on, coming from behind to clinch the hard-earned victory.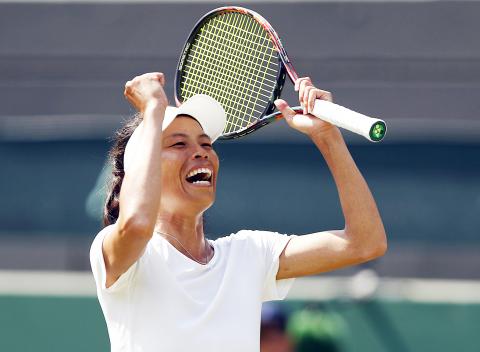 Taiwanese Hsieh Su-wei celebrates her win on Saturday over Simona Halep of Romania in their third-round match during the Wimbledon Championships at the All England Club in London. She is to face Dominika Cibulkova of Slovakia today.
Photo: EPA-EFE
It is the first time she has made it to the fourth round of Wimbledon, but not the first time she has played underdog in an international competition.
In the Australian Open in January, she defeated 3rd seed Garbine Muguruza and 26th seed Agnieszka Radwanska in straight sets to reach the fourth round, matching her previous best performance at Grand Slam level 10 years earlier.
Asked how she trained to become a "giant killer," Hsieh on Saturday told reporters that she was focusing only on enjoying the game.
"I just want to feel free and enjoy the match. You know that anything can happen on court. All I want to do is just go on court and hit the shot, run every point and enjoy it," she said.
Asked how her style of game could beat the best players, Hsieh said: "I just need to keep calm and keep concentrating on court."
However, she also said that the unpredictability of her game has driven her training partners crazy from time to time.
"I know I used to drive the girls crazy because in my practice, in every two shots I did one drop shot, if I didn't drop shot, I hit as hard as I can," she said.
Halep gave Hsieh high credit.
"I just believe that I was not very positive on court," Halep said. "The match was very unprofessional for me. But I am too tired. I was too tired. I have pain everywhere."
"I will not find excuses about this match, she deserved to win, but still I'm sad about myself today," Halep said.
Hsieh is to face Dominika Cibulkova of Slovakia today.
Comments will be moderated. Keep comments relevant to the article. Remarks containing abusive and obscene language, personal attacks of any kind or promotion will be removed and the user banned. Final decision will be at the discretion of the Taipei Times.