Tainan win Little League Championship first game
In the opening game of Taiwan's annual Little League Championship tournament, Tainan broke a deadlock to score five late runs to defeat Yilan County 13-8 yesterday.
Tainan Mayor William Lai attended the game at Taipei's Hsinsheng Park Baseball Field. Lai brought many supporters from the Tainan area to cheer on the team at the week-long tournament known as the Herbalife Cup, which is for under-12 baseball players from top elementary-school teams chosen to represent their county or city.
This year's Herbalife Cup series is also to decide coaches for the national squad to compete in the World Baseball Softball Conference (WBSC) U-12 Baseball World Cup Championship, which Tainan is hosting in July.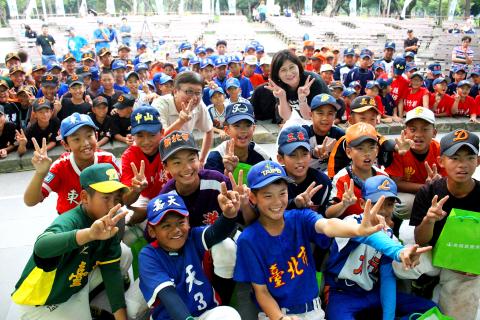 Players from teams across Taiwan gather for the media at the Little League Championship Herbalife Cup opening ceremony on Friday.
Photo courtesty of Chinese Taipei Baseball Association
The WBSC agreed on Jan. 30 to award three editions of the U12 Baseball World Cup (this year, 2017 and 2019) to Tainan, as the city was nearing the completion of a new sports complex with large-capacity facilities for hosting international tournaments.
In the opener, a back-and-forth battle had Yilan and Tainan tied at eight runs apiece in the fifth inning. Then, with a big rally on three hits, and adding a two-run homer, Tainan sealed the game with five runs in the sixth frame for the win.
"We do not have any particular dominating pitchers, so I used six players on the mound for the game. It will be this kind of rotation for the competition; we will win with a total team effort, just like today," Tainan head coach Wang Tsung-jen said.
In the other contest yesterday, Taoyuan shut out Hualien County 7-0.
The top 14 U-12 teams from across the nation are competing in this year's Herbalife Cup, which is to wrap up with the semi-finals and final next weekend.
Comments will be moderated. Keep comments relevant to the article. Remarks containing abusive and obscene language, personal attacks of any kind or promotion will be removed and the user banned. Final decision will be at the discretion of the Taipei Times.