Taiwan Beer retake finals series lead
Rallying from a four-point deficit early in the fourth with a 13-0 run, Taiwan Beer outmaneuvered top-seeded Pure Youth Construction 80-69 in Game 3 of the Championship Finals at the Kaohsiung Fengshan Gymnasium last night to take a 2-1 lead in the best-of-seven series.
Liu Cheng had a huge day at the office with 23 points, three assists and five steals to lead the men in the familiar green uniforms past the heavily favored regular-season champions.
"We played well in defense in the second half to shut down [Pure Youth's] offense," Liu said.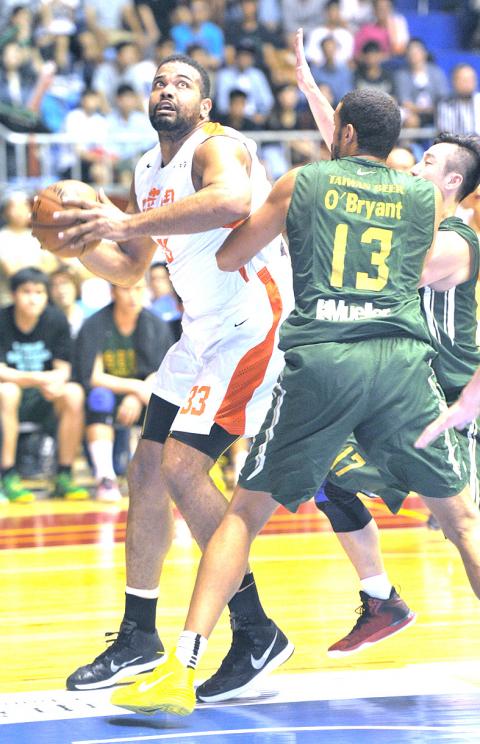 Pure Youth Construction's Garret Siler drives past Taiwan Beer's Patrick O'Bryant in their SBL Championship Finals game in Kaohsiung yesterday.
Photo: Huang Chih-yuan, Taipei Times
His two clutch steals in the fourth not only took away the Builders' scoring opportunities, but also destroyed their confidence during a futile comeback attempt.
Taiwan Beer big man Patrick O'Bryant also starred, netting a game-high 25 and delivering two brilliant passes from the high post to down below for a pair of easy scores during the 13-0 run.
Heading into the contest after a blowout loss in Game 2 against the three-time defending champions, the Brew Crew showed no signs of intimidation, taking it strong to the hoop right from the start to grab an 18-13 lead after one quarter of play.
However, the Builders were not rattled, and responded by dominating the second quarter on the back of stellar play from Tsai Wen-cheng, who alone racked up three steals in the quarter along with eight points.
Pure Youth finished the first half with a 34-32 advantage.
Taiwan managed to reclaim the lead near the end of the third with Liu and O'Bryant spearheading the way before falling behind again early in the fourth, setting the stage for one of the best finished this post-season.
Both teams get a day of rest before suiting up for tomorrow night's Game 4 at the Sinjhuang Sports Complex in New Taipei City, where a win for Taiwan Beer will put them one shy of the Holy Grail.
Comments will be moderated. Keep comments relevant to the article. Remarks containing abusive and obscene language, personal attacks of any kind or promotion will be removed and the user banned. Final decision will be at the discretion of the Taipei Times.