American football set for unlikely World Cup win
At the heart of every debate about modern sports tournaments is legacy and one unlikely beneficiary of next year's FIFA World Cup in Brazil will be American football.
As the event's 12 host cities enjoy improved transportation systems, airports and new stadiums, the Cuiaba Arsenal football team are hoping to share in the spoils.
Paulo Cesar, a 32-year-old lawyer, could not be happier.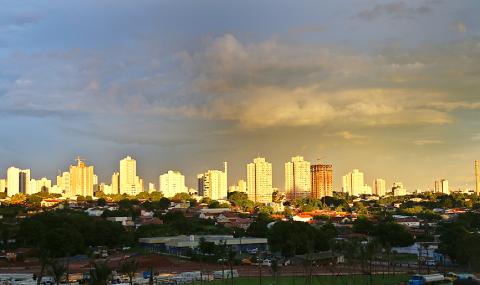 The sun sets over Cuiaba, one of the host cities for next year's FIFA World Cup in Brazil, on Thursday.
Photo: EPA
While most Brazilian boys grew up dreaming of emulating Pele or Ronaldo and winning the World Cup, his sporting heroes played with a different ball and scored touchdowns, not goals.
Now his team stand to benefit from soccer's biggest tournament when they switch homes from their modest ground to Cuiaba's World Cup stadium: the Arena Pantanal.
Although his team bear the name of one of the most famous soccer clubs in the world, they have no links to the Arsenal topping the English Premier League.
"No, we have nothing to do with them, in fact I'd never heard of them at first," Cesar said at the building site for the Arena Pantanal.
"Our club is named after the fort built in Cuiaba to contain the arsenal of weapons to defend the city during the Brazil-Paraguay war in the 1860s and which is still standing today," he added.
Like their soccer namesakes, who are one of England's most successful clubs, Cuiaba Arsenal have enjoyed considerable success in their significantly shorter existence.
Founded in 2006, they have been Brazilian national champions twice, in 2010 and last year. Six of their players have gone on to play college football in the US and they regularly attract crowds of about 4,500 to their entirely amateur matches.
Cesar, who plays in offense for the team, agrees there is an irony that one of the legacies of the World Cup will be to boost American football in the city and Mato Grosso State.
"It should change the club entirely and we estimate that maybe 10,000 or 12,000 people will come and watch our matches, and maybe more, because American football is growing in Brazil," he said.
"I fell in love with it as a 14-year-old and, since I started playing, it was 100 percent football for me — not soccer," Cesar added. "Our aim is to make the Arena Pantanal a fortress like the one we're named after. We want other teams to be afraid to come here. Of course the stadium will help the local soccer clubs, but we will benefit too."
Mato Grosso State Secretary Mauricio Guimaraes, responsible for all aspects of the World Cup in the region, believes there is plenty of scope for the city's soccer and football clubs to share a neighborly existence at the Pantanal.
"The stadium, like in many other places, will be a catalyst for the city to help it grow and to help its identity, but unlike in other places, it will not just have an impact on soccer, but on American football too," he said.
"No one here has any problem with that, in fact it is very exciting. For Cuiaba to become national champions was a great honor for us and if we can do anything to help them do it again, we will," Guimaraes added.
World soccer's governing body FIFA appears to have no problem with American football either. It helped promote a video of the Cuiaba Arsenal team on its Web site earlier this year that later went viral on YouTube.
"Brazil has always been mad about football. Of course, maybe not American football, maybe just the soccer code, but the World Cup can improve lots of different things in Brazil, and if American football is one of them, that's fine with us too," Guimaraes added.
Comments will be moderated. Keep comments relevant to the article. Remarks containing abusive and obscene language, personal attacks of any kind or promotion will be removed and the user banned. Final decision will be at the discretion of the Taipei Times.