Taiwan's Hsieh Su-wei ready for Indian Wells
Taiwanese tennis player Hsieh Su-wei leaped to No. 78 in the international tennis rankings this week after winning her first WTA singles title at the Malaysia Open on Sunday. Hsieh entered the tournament as world No. 123.
Hsieh became only the second Taiwanese player to win a WTA singles title. Wang Shi-ting won six singles titles on the WTA Tour, with her last one earned in 1996.
The unseeded Hsieh defeated fifth seed Croatian Petra Martic in the final 2-6, 7-5, 4-1.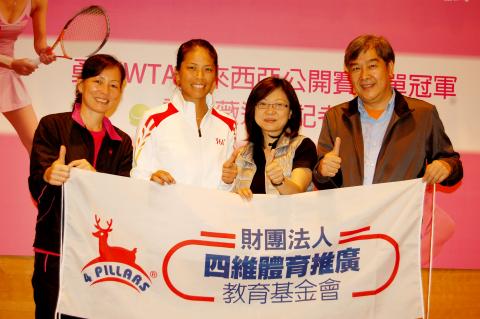 Taiwan's Hsieh Su-wei, second left, holds a banner for a sports education fund after returning to Taipei yesterday from the Malaysian Open.
Photo: Liang Wei-ming, Taipei Times
Martic withdrew from the game in the third set because of heat exhaustion.
Hsieh returned to Taiwan yesterday and thanked her sponsors for helping make her success possible. She teared up when she thanked former Four Pillars Enterprise chief executive Yang Bin-yen, who passed away last year, for the company's continuous financial support.
While foreign media outlets have characterized Hsieh's victory as a "fairytale finish," Hsieh said she was lucky just to make it into the Malaysian Open.
"I flew out from Dubai, where I made it all the way to the semi-finals," Hsieh said. "I didn't sleep for a day and started playing [in Malaysia] the next day. I won two qualifiers before I entered the main tournament. I did not win because of luck. I did the best I could to score every point and win the game."
"I was exhausted on the first day of the tournament, but I was able to press on with the belief that I could make it and win," she said.
The WTA win also helped pave the way for the 26-year-old to compete in the London Olympics in July. Asked how she would train for the Games, Hsieh said she has always been prepared for her competitions.
"All I need to do now is to protect myself from getting injured," she said. "I leave the rest to my coach."
Hsieh's next tournament is at Indian Wells, California, where she will compete in the doubles.
Comments will be moderated. Keep comments relevant to the article. Remarks containing abusive and obscene language, personal attacks of any kind or promotion will be removed and the user banned. Final decision will be at the discretion of the Taipei Times.