SBL: Kaoliang Liquor hold off Vaudreuil-inspired rally
Kinmen Kaoliang Liquor took a 14-point lead at halftime and held off a fierce comeback attempt by Bank of Taiwan to win their SBL game 66-63 at the Taipei Gymnasium yesterday afternoon.
Shawn "the Hawk" Hawkins scored 16 and grabbed nine rebounds to lead a bent-but-would-not-be-broken Distillers lineup that played only one good half and then had to fight for their dear lives to pick up victory No. 2 of the season.
Bank of Taiwan chipped away at a 12-point deficit at the start of the fourth and came to within a deuce of Kinmen Kaoliang, helped by the outstanding play of newly arrived foreign help, John Vaudreuil, who poured in nine of his game-high 20 in the final quarter, but they could never get over the hump when it mattered the most to pull off the comeback win.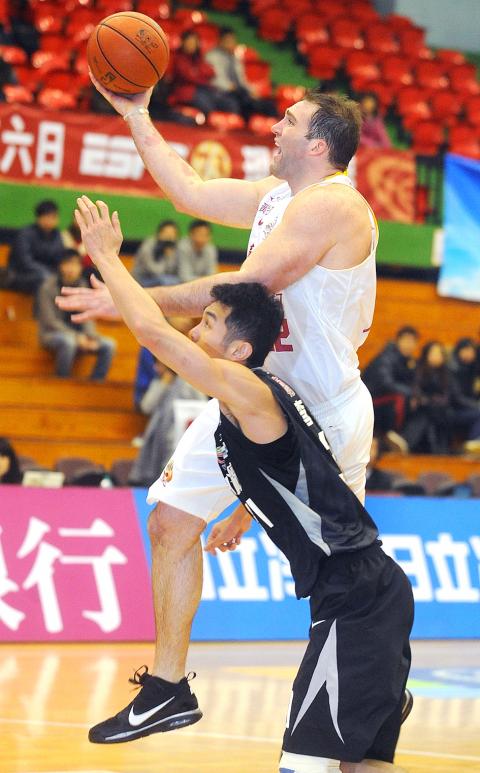 Li Chun-wei of Kinmen Kaoliang Liquor, bottom, fouls Bank of Taiwan's John Vaudreuil as he goes up for a shot during their game in Taipei yesterday.
Photo: Liao Chen-huei, Taipei Times
Vaudreuil also racked up a half-dozen boards for his new team to conclude a pretty good day at the office considering his plane had landed less than 10 hours prior to the game as he arrived to fill in for the injured Jason Faulknor.
"Not too bad for someone [Vaudreuil] who got off the plane less than 10 hours ago," Bank of Taiwan boss Lai Liang-chung said after the game. "Give us a few more practices with him and we should be even better."
PURE YOUTH 84, LEOPARDS 75
Pure Youth Construction continued their recent success by downing the Taiwan Mobile Leopards in the second game in Taipei yesterday evening to up their win streak to a season-best five.
Red-hot Rashad Jones-Jennings missed what would have been his fifth straight double-20 outing for a new league record in consecutive games by only two points as he poured in 18 points and 27 rebounds on the night, but that helped the surging Builders to a solid win nonetheless.
He would have easily gotten the 20 if he had converted two more free throws as he recorded eight-for-13 shooting from the charity stripe.
His 27 rebounds in the game alone were enough to tie the entire Leopards team, redefining a new standard for total air supremacy as the Builders out-rebounded the Leopards by a huge 46-27 margin.
Also starring for Pure Youth was Chien Jia-hong, whose 10 fourth-quarter points helped the Builders erase several deficits in the second half to run away with the win.
The Leopards rode on the success of Marcus Dove's stellar 22 points and 13 rebounds to keep themselves in the game, while guard Wu Yong-ren pitched in with 23 points to account for the bulk of his team's offense, but that was not enough to translate into a win, as the Builders were simply too strong to defend against, especially in the decisive fourth quarter.
TAIWAN BEER 100, TIGERS 71
Putting up 100 points on the scoreboard for the first time this season, Taiwan Beer easily cruised past the Dacin Tigers 100-71 in the final game yesterday to improve to 9-1 for the season.
Yang Jing-min led the Taiwan Beer attack with his team-high 27 points, while fellow frontcourt mates Wu Dai-hao and Cheng Ren-wei added 11 and eight respectively to humble a Keith Gayden-led streak of Tigers who had scored 100 in their own right the night before in a losing effort.
Comments will be moderated. Keep comments relevant to the article. Remarks containing abusive and obscene language, personal attacks of any kind or promotion will be removed and the user banned. Final decision will be at the discretion of the Taipei Times.