Taiwan shuts out Czech Republic to move to 2-0
Team Taiwan made it two wins in a row by blanking the Czech Republic 6-0 in the preliminaries at this year's Intercontinental Cup Baseball Championship in Douliou yesterday afternoon.
The win propelled the home team atop the standings in Group A that includes the defending champs and 10-time winner Cuba, as well South Korea, the Czech Republic and Hong Kong.
Slugger Chen Yong-chi (a minor leaguer with the Pittsburg Pirates) batted a perfect three-for-three with four RBIs to lead the home squad with an attack that teed off against the Czech pitching with 13 hits on the day. Also starring for Taiwan was leadoff man Lin Che-hsuan (a minor leaguer with the Boston Red Sox) who went three-for-five with three runs and a stolen base.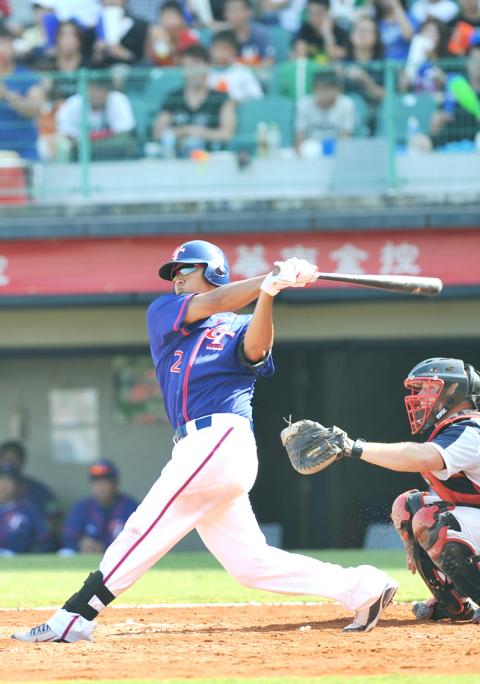 Team Taiwan's Lin Che-hsuan bats in yesterday's Intercontinental Cup game against the Czech Republic in Douliou.
PHOTO: LIAO YAU-TUNG, TAIPEI TIMES
Even though there was still room for improvement as far as Taiwan's scoring efficiency was concerned, with batters managing to produce only a half-dozen runs on 13 hits, five of which went for extra bases, head coach Yeh Chih-hsien was happy with the outcome of the game.
"Overall, I am pleased with the result of the game, even though we could do better on stringing our hits together a little more," Yeh said afterwards, referring to dismal batting by his No. 4 and 5 hitters Lin Chih-sheng (La New Bears) and Chen Chun-shiu (a minor leaguer with Cleveland Indians) who batted a combined two-for-eight with no RBIs and hit into double plays to cut short several scoring opportunities for their team.
Other than four quick runs over the first two innings, highlighted by Chen's two-run double in the second, Taiwan was held to only a pair of runs against a Czech pitching staff that bent, but seldom broke.
Poor run production did not affect Taiwan much in the game as stellar pitching, led by starter Pan "Du Du" Wei-luen's (Uni--President Lions) three perfect innings of play, held the Czech hitters to three singles on the day, allowing only one runner to reach scoring position the entire game.
Reliever Liao Wen-yang was credited with the win for his two innings of perfect relief following Pan's outstanding effort in a game in which Yeh sent five different hurlers to the mound.
"It's important to give as many pitchers a chance to get some action as possible," Yeh said after the game.
Team Taiwan take on Hong Kong at the Intercontinental Baseball Stadium this evening with the first pitch scheduled for 6:30pm.
Comments will be moderated. Keep comments relevant to the article. Remarks containing abusive and obscene language, personal attacks of any kind or promotion will be removed and the user banned. Final decision will be at the discretion of the Taipei Times.