UBA: Mingdao rally for upset victory over Chinese Culture
Mingdao University upset Chinese Culture University 70-68 as ­preliminary-round action in the annual University Basketball Association (UBA) tournament continued at the Fu Jen Catholic University in Sinjhuang on Thursday evening.
The newest team in Division I basketball proved that their promotion from Division II this season was no fluke by downing the runners-up from last season's title game.
Mingdao received an outstanding performance from point guard Wu Min-shien, whose fade-away jumper with under a minute remaining in the game gave his side a four-point lead.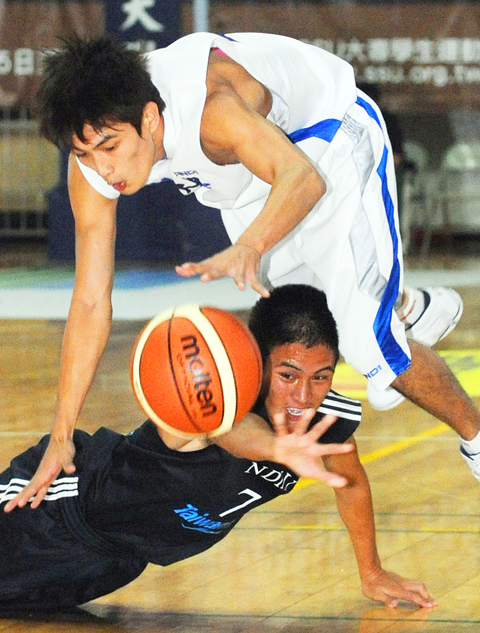 Lin Wei-han, top, of Fu Jen Catholic University tries to keep his balance as Chen Kui-hsiang of National Donghwa University reaches for the ball in Sinjhuang on Thursday.
PHOTO: LO PEI-DER, TAIPEI TIMES
Also starring for Mingdao was forward Huang Jia-ming, who got himself in a great position under the basket for an easy put-back bucket following a miss by Wu to seal the victory in a game in which they trailed for most of the first half.
"It was a big win for us, there's no doubt about that," said Mingdao skipper Chia Fan, who has singlehandedly brought Mingdao to prominence with an elite recruiting class from last year.
Chinese Culture were well on their way to picking up their second victory of the competition after taking the lead early on, but fell victim to foul trouble as their top guns Lu Cheng-ru and Wu Jien-long were held to limited action with three first-half fouls apiece.
NTUA 124, TPEC 83
Fourteen three-pointers boosted National Taiwan University of the Arts (NTUA) to 73 points in the first half as they breezed past Taipei Physical Education College (TPEC) for their first win of the competition.
NTUA vented their frustration over a loss to National Dong Hwa University the night before by converting more than half of their shots from the floor (43-for-76) en route to the lopsided win.
Lai Guo-wei's game-high 33 points led the way for NTUA.
Thursday's other results:
• National Taiwan Normal
University 104, Diwan
University 77
• Hsing Wu University 87, National Taiwan College of Physical Education 79
• Fu Jen Catholic University 98, National Donghwa
University 74
• National Taiwan Sports University 68, National Kaohsiung Normal University 65
Comments will be moderated. Keep comments relevant to the article. Remarks containing abusive and obscene language, personal attacks of any kind or promotion will be removed and the user banned. Final decision will be at the discretion of the Taipei Times.