Chuck Daly, coach of Piston's Bad Boys, dies at 78
Chuck Daly, who coached the Detroit Pistons' Bad Boy teams to two consecutive NBA championships and coached the Olympic Dream Team to a gold medal at the 1992 Barcelona Games, died on Saturday in Jupiter, Florida. He was 78.
Daly's death was announced by the Pistons. In March, they said he was being treated for pancreatic cancer.
When Daly became the Pistons' coach in 1983, the franchise had never won an NBA championship since entering the league in 1948, representing Fort Wayne, Indiana. In his nine seasons with Detroit, Daly's teams made the playoffs every year. His Pistons swept the Los Angeles Lakers in the 1989 NBA finals, then beat the Portland Trail Blazers in a five-game final the next year.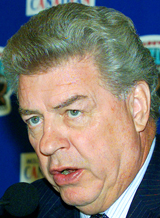 NBA Hall of Famer Chuck Daly speaks at a press conference in this undated photo taken in Vancouver, Canada. Daly died on Saturday at 78 years old.
PHOTO: REUTERS
Daly was inducted into the Basketball Hall of Fame in Springfield, Massachusetts, in 1994. When the NBA celebrated its 50th anniversary in 1996, he was named one of the 10 greatest coaches in league history in balloting by members of the news media. The Pistons retired No. 2 in 1997 to commemorate his consecutive NBA titles.
THE BAD BOYS
Daly's Pistons featured scoring and flash in the backcourt, with Isiah Thomas, Joe Dumars and Vinnie Johnson, and muscle up front, with Bill Laimbeer, Rick Mahorn, Dennis Rodman, John Salley and Mark Aguirre.
The Bad Boys were known as fierce defenders quick to toss an elbow or a body. Daly was a fast-talking figure who exuded energy and passion, but in dealing with these rugged sorts he used persuasion in place of an iron hand.
"If you're going to be a coach, it's going to be a selling job night in and night out," he said. "I've had surgery on my right knee. It comes from bending a lot."
When Daly assembled the first US Olympic basketball team using professional players, he had enormous talent and egos to match. He blended the superstars on that Dream Team, led by Michael Jordan, Larry Bird and Magic Johnson, and they combined to earn a gold medal.
After the US routed Croatia to win gold, Jordan remarked: "People said that no one plays defense in the NBA, but the biggest difference is our defense."
BIG DREAM
Charles Jerome Daly, a native of Pennsylvania, decided on his future while in high school.
"I remember telling my mother, 'Mom, I'm going to be a basketball coach, and I bet I can make as much as US$10,000 a year at it,'" he said. "I had read all the John Tunis sports books as a kid."
While Daly's Pistons were known for rough-and-tumble play, he was an elegant presence at courtside in dark blue suits, nicknamed "Daddy Rich" for his taste in fine clothing.
"You read the article that said I had 199 blue suits?" Daly said before coaching the East against the West squad of the fashionable Pat Riley in the 1990 NBA All-Star Game. "Now I have 200. I went into a store and sure enough I bought a blue one. Nobody ever looks bad in a blue suit."
As for his interest in clothing, he said: "This is not a game where you upstage the players. This is a business like any other business. You get bored. I get bored. You do something for fun."
Comments will be moderated. Keep comments relevant to the article. Remarks containing abusive and obscene language, personal attacks of any kind or promotion will be removed and the user banned. Final decision will be at the discretion of the Taipei Times.