Watchdog group
VESTED INTERESTS The presence of politicians and public servants either owning or working for the media is hindering the development of an effective fourth estate
Politicians and public servants should get out of media programming and be restricted from managing media or the producing and hosting of TV or radio programs, a media watch group yesterday said.
He Te-feng (賀德芬), president of Taiwan Media Watch Foundation (媒體觀察基金會) told a press conference at the Legislative Yuan yesterday that the tendency for public servants, election candidates elected officials to take part in media reporting or the production or hosting of TV and radio programs was "strangling the fair and detached stance that mass media is supposed to have."
He said that Taiwan's media situation had long been intertwined with political party and military interests. Of the three major terrestrial TV networks, TTV, CTV and CTS one is substantially owned by the KMT, one by the military and one by the government. All three, He said, are obviously favoring the KMT in election-related coverage, while the fourth terrestrial channel, FTV, the president of which is a member of the DPP's central standing committee, has shown a clear bias towards the DPP.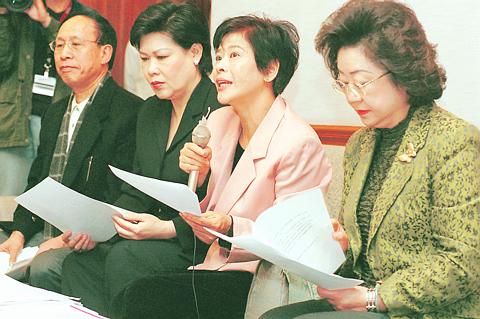 He Te-feng, second from right, director of the Taiwan Media Watch Foundation, calls for the depoliticization of the media during a news conference yesterday. Ho is flanked by legislators from different parties.
PHOTO: CHIANG YING-YING, TAIPEI TIMES
He called on politicians to respect the independence of the fourth estate, while the foundation called for a petition to force political parties and public servants out of the media.
The group wants such regulations be included in the Political Party Law (政黨法) and the Civil Servant Conflict of Interest Prevention Bill (公職人員利益衝突迴避法). A proposal to do which will be reviewed in the legislature next Friday.
The proposal would restrict public servants and election candidates from holding posts as shareholders, directors or managers of media-related enterprises or from working as producers, anchorpeople or reporters. The government and political parties would also be prevented from investing in mass media enterprises.
DPP legislators Fan Sun-lu (范巽綠) and Wang To (王拓), New Party legislator Hsieh Chi-ta (謝啟大) and independent vice presidential candidate Chu Hui-liang (朱惠良) expressed willingness to endorse the campaign.
Other politicians and academics were, however, less enthusiastic about such restrictions.
Chen Shei-saint (陳學聖), a KMT legislator and current spokesman for the Lien Chan (連戰)-Vincent Siew (蕭萬長) presidential campaign said there could be forces other than politics that have been influencing Taiwan's media environment. Chen himself hosts various radio and TV programs, some of which are current affairs-based. He said there were media that were driven by commercial interests, and others by religious influences, "so political restriction cannot guarantee media independence."
"I have no answer for the question, but I also look forward to new plans for establishing a bias-free media," he said.
Chen said the most effective way to do this is through individual self-discipline. "When I host a program, I will adjust my criteria to maintain balance. And if I am biased, it would be reflected by the ratings of my program."
Su Herng (蘇蘅), a professor of journalism at National Chengchi University agreed.
She said that although maintaining an independent, interest-free media environment is a basic premise of media reform, in reality it is almost impossible to block politicians from media intervention. A longer-term direction is to make all media, including cable TV and the Internet, more diverse and accessible, she said.
In terms of legal regulation, Su said a notion of enhancing equal rights to use the media, rather than restriction, should be focused. Studies on European and Australian media regulation have shown a mechanism could be established to enhance accessibility, she said.
Comments will be moderated. Keep comments relevant to the article. Remarks containing abusive and obscene language, personal attacks of any kind or promotion will be removed and the user banned. Final decision will be at the discretion of the Taipei Times.