Li Ao agrees to running mate
ELECTION Resolution of a dispute over Li's running mate has averted the threatened withdrawal of the New Party from the presidential race
A potential row between the New Party and its presidential candidate, Li Ao (李敖), which could have taken the party out of the presidential race, appeared to be averted yesterday after the party announced that legislator Elmer Fung (馮滬祥) would be Li's running mate.
"Our presidential ticket has been officially decided, and we are now launching our challenge," announced Lee Ching-hua (李慶華), chairman of the party's national election and development committee, after an emergency committee meeting yesterday.
The decision ended speculation that Li -- who is not a New Party member himself -- might quit the campaign over what he had said was the party's reluctance to cooperate with him over the issue.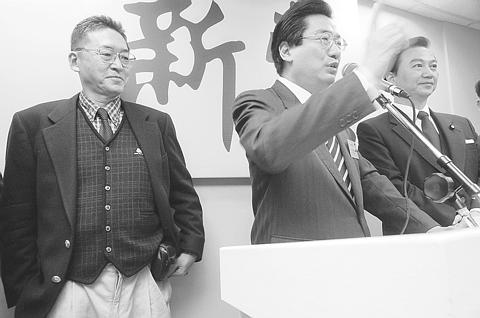 Lee Ching-hua, center, announces Elmer Fung, right, as the running mate for New Party presidential candidate, Li Ao, left, at a news conference yesterday. Lee also confirmed the party's determination to stay in the presidential race.
PHOTO: CHEN CHENG-CHANG, TAIPEI TIMES
Li, who has refused to join the New Party despite representing the party in the campaign, initially had three favored choices -- Lee, former DPP spokeswoman Sisy Chen (陳文茜) and National Taiwan University professor Chang Lin-cheng (張麟徵).
While Lee and Chang turned down the offer, the choice of Chen met with strong opposition within the party due to her ideological differences.
After Lee said the New Party might be forced to quit the presidential campaign, Fung offered to be Li's running mate.
Li agreed to accept Fung if the party recommended him officially.
Yesterday, Lee admitted that Fung was in fact on a list of 14 people whom he had proposed to Li as candidates, but that Fung had not been shortlisted.
Li did not explain why he had not considered Fung initially, though he apparently is aware of the controversy surrounding him.
"Fung is a very handsome and knowledgeable man, but he is also much misunderstood -- being suspected of having too close a relationship with the People's Republic of China," Li said.
Fung, who leads a private group promoting unification between Taiwan and China, has made frequent visits to Beijing and has met with senior Communist officials.
Fung explained that the fact he has kept close contact with Beijing does not mean he is "pro-Chinese communists" or supports "hasty unification."
"The Cold War is over and confrontation should be replaced with negotiation," Fung said. Fung, who was a National Assembly deputy before being elected a legislator, worked as secretary to the late President Chiang Ching-kuo (蔣經國) from 1979 to 1986. His past connection with the KMT during the martial law era has contributed to his mixed reputation.
Fung allegedly played a part in the KMT-sponsored suppression of academic freedom at National Taiwan University in 1973, now known as the "philosophy department incident."
In 1985, Fung also sued a magazine headed by Chen Shui-bian (陳水扁) -- now the DPP's presidential candidate -- over a report accusing Fung of plagiarism in his doctoral dissertation.
Chen was sentenced to one year in jail, and ordered to pay Fung NT$2 million. The verdict, which appeared to mix elements of a criminal trial with civil responsibility, was allegedly the result of political interference.
Comments will be moderated. Keep comments relevant to the article. Remarks containing abusive and obscene language, personal attacks of any kind or promotion will be removed and the user banned. Final decision will be at the discretion of the Taipei Times.